This $25 Throw Pillow From Target Will Give Your Sofa The Best Spring Upgrade
@target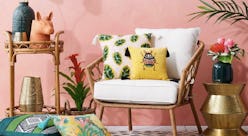 Because spring typically means warmer temperatures, you're more than likely starting to spend more time al fresco these days. But with a few key decor pieces, you can also bring that outdoorsy feeling inside and make your home an extension of the season. And if shopping new furniture or accessories for your pad feels like an impossible luxury, perhaps you just haven't looked in the right places. For example, there's a ton of spring home decor from Target, all of which falls under the $100 mark so you can still make a statement without breaking the bank.
A spring refresh could mean a few things for your home, and many of them don't involve a major (and therefore costly) overhaul. For example, just a few simple switch-ups could lighten and brighten things up in a snap. Pop some fresh flowers in a vase and add to your coffee table or nightstand for an instant spring-y fix. Changing up your bedding or textiles to a more lightweight or lighter color fabric will also help transition you into the season.
Speaking of color, trying out some of spring's Pantone-approved shades is another way you can make an impact in any space without having to do too much. Bright coral, lime green, golden yellow, lilac, and even orange are just a few of-the-moment colors that pop, plus when you're using them by way of small accessories like a throw pillow or ceramic vase, they're much less of a commitment. Similarly, there are a handful of prints which decor experts agree feel especially fresh this time of year — like chinoiserie, chevron, trellis, and of course quintessential florals — that can all be used similarly.
And because things are heating up, if you're lucky enough to have some outdoors space at your pad, it's an ideal time to spruce up your patio for an afternoon read while you soak up the sun, happy hour hangs, and perhaps even dinner parties with friends. If that's the case, look for multi-purpose pieces that work for seating and setting your drinks, weather-proof rugs and pillows, and chic storage pieces where you can stash lightweight blankets (for chilly nights) and other entertaining accessories.
Regardless of which of these categories you're looking into for your own spring mini makeover, you're more than likely to find what you need at everyone's favorite, always-reliable retailer Target (along with a million other things you never knew you needed) — which also means getting a great deal. In fact, when you shop here, your new home addition doesn't have to cost you more than $100. Case in point, the 10 pieces ahead can add the feel of the season into any room — whether it be by way of color, pattern, or material — and some are as little as just $25. That means for less than the price of your twice-a-month manicure, you can give your home the fresh vibe you've been craving.