The Target Chair That'll Freshen Up Any Outdoor Space — No Matter The Size
united photo studio/Shutterstock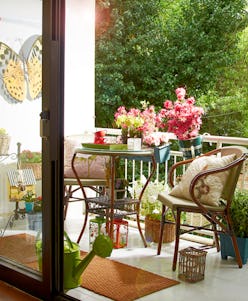 For some, welcoming the new spring season might mean plotting a picnic in the park or grabbing some ice cream al fresco at your favorite neighborhood spot. But if you happen to have the luxury of some patio space at your pad (or even a cozy balcony area), a great way to celebrate the season might be by sprucing it up a bit. And thankfully you don't have to spend a lot to create a sweet little respite for spring; with so much stylish outdoor furniture under $100, it's a lot more affordable than you might think.
No matter how much square footage you're working with in terms of your outdoor space, there's definitely a piece or two that can take it up a notch and help you create a truly chic patio — especially considering all the current spring sales going on right now. For example, even the teeniest accent table might be the thing that brings yours to the next level (not to mention the perfect place to set that glass of wine while you're watching the sunset).
If you've been blessed with a little more room, look for statement-making seating, like an oversized bean bag chair for lounging or some other weather-safe chair with an interesting shape. Of course a multi-functional find — like a storage ottoman that doubles as a side table — could be super handy for any patio, especially when you're throwing your next dinner party or having a few friends over for cocktails.
Whatever piece you're in search of to create your ideal outdoor escape at home, the good news is that you can probably find a version, no matter your budget. To prove that point, each of the options below are guaranteed to make any patio pop — and they won't cost you more than $100 bucks.
This silver patio chair from CB2 is great for lovers of minimalist design, but if you're creating a more eclectic feel, it's also versatile enough to be amped up with the addition of colorful accent pieces like weatherproof cushions or a rug.
These metal stools will give a Moroccan vibe to your patio space, plus they easily double as a stool if you're in need of some extra seating during your next soirée.
Leave it to Target to offer chic seating options at under $100 — which includes outdoor-friendly pieces, like this egg chair that you'll be living in through the summer. And when it's not so warm outside, this could easily work indoors, too.
If you love a good dual-purpose piece, this storage table is for you. Stash your small outdoor essentials (bug spray, towels, etc) inside when they're not in use to avoid extra clutter.
If it's an extra comfy space you're looking to create, investing in an oversized, overstuffed chair or ottoman is quintessential. Luckily this nautical one from Wayfair won't break the bank.
Give your patio a cool Tiki nod with this bamboo chair that easily folds up if you're in need of more space.
A bistro set is the perfect way to enjoy your dinner-for-two or breakfast al fresco, and this one found on Jet will only set you back $70.
Rattan is a great material for patio furniture, and this little table from Urban Outfitters is a stylish way to try it out in your outdoor space.
If you live in an area where your patio doesn't get year-round use, foldable furniture is probably the best way to go, since it can be easily stored away when it's not in use. And for less than $100 for the set, these sunny chairs are tough to beat.
Add a little color to your patio with this oversized ottoman from Amazon that also offers you additional storage.