Sorry Minimalists, Maximalist Home Decor Is Still Picking Up Steam, According To Etsy
Photographee.eu/Shutterstock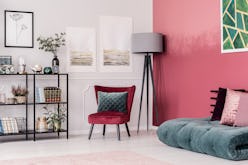 Your home is your sanctuary, so naturally, you want it to be a reflection of you. That means curating home furnishings and decor to fit your lifestyle and taste. It's no wonder, then, that Etsy — the online marketplace where artists sell handmade goods — has become a top spot to find personalized touches for home. Not only are many of these products made by small businesses, they're also modern, stylish, and affordable — as evident by the top home decor trends on Etsy listed below. Of all the aesthetics represented on the platform, it seems the maximalist home decor trend is shining a bit brighter than all the others — just ask the Instagram gods.
"Shoppers are increasingly looking for ways to stand out from the crowd — from their wardrobe to their homes — and Etsy offers the most special, one-a-kind items that can't be found anywhere else," says Dayna Isom Johnson, Etsy trend expert and judge on Making It with Amy Poehler and Nick Offerman. She adds that this year's big trend is maximalism, with "standout fixtures, big patterns, and vibrant colors on the rise." She adds, "I'm especially loving crystal-inspired details, desert decor, and the return of tie-dye."
And as it turns out, interior designers are also in on the treasure-hunting secret. "I love being able to support small businesses as well as find unique pieces for our projects," says Abbe Fenimore, founder and interior designer at Studio Ten 25. "My favorite find on Etsy right now is designer pillows. I can always order the yardage and have them made, but purchasing them on Etsy really simplifies the process."
So if you're looking for ways to give your space a refresh for the spring (that's not mass-produced), read on. Ahead, find some of the top home decor trends on Etsy, according Instagram — that also seem to be made for the maximalist. From hand-painted coffee mugs to a dainty treasure dish, here are the fun and eclectic pieces getting all the likes.
What's better than your morning cup of coffee or your afternoon tea? Sipping it from one of these gorgeous glass mugs, of course (scroll right to view the rainbow bubble pattern). These beauties will glow alongside any table setting or behind glass cupboard doors.
And for pottery that's too pretty not to display, these geode-inspired pieces will certainly do the trick. With gem-like colors, gold embellishments, and a 3D design, these unique mugs are as elegant as they are intriguing (swipe right for more crystal-themed goodies).
Every group has a token friend with impeccable grammar (and if you don't, it might just be you). These cheeky pencils will add a pop of color to your home office and satisfy your inner grammar nerd, too. Sure, you could bring them to work — but is it worth the risk of losing one?
These nature-inspired nesting bowls are the kitchen essential you never knew you needed. Set out an entire table's worth of dishes and accoutrements with this handy set, then stack them and stash them (or rather, display them), and they'll take up minimal space.
Perfect for rustic-chic and/or minimalist decor, this linen duvet cover is stone washed, ensuring that it feels as cozy as it looks. In addition to its pretty dusty pink color, it's no wonder that this bedroom necessity is a best seller.
Remember when you made a New Year's resolution to buy yourself fresh flowers every week? This stunning vase may inspire you to actually stick to it. But if you can't commit to the real thing, consider picking up a bouquet of no-maintenance silk buds, instead (below).
Yes, these (faux) blooms make a lovely bridesmaid bouquet, but why only enjoy them on one special day? Arrange them in an artsy vase to brighten up your home any time of year (and btw, no one will know they're not real).
Your special pieces of jewelry should be kept in a special place, and with its gold-rimmed pearlescent petals, this dish won't disappoint. Use it to stash your wedding rings, heirloom earrings, or designer gems for easy accessibility and safe keeping.
Who said cat perches can't be chic? Your kitty will love climbing into this macramé "cat planter," and even when it's empty, it'll look like a (very trendy) work of art.