The Genius Product That'll Help You Organize Your Home Office
Photographee.eu/Shutterstock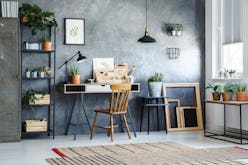 Whether you work from home full-time or parts of your job come back to your humble abode, having a designated work space is essential for productivity. When you do any amount of work at your place, you should have an area where all your supplies are stashed, and one that gives off a vibe that inspires you to get busy — even if you're in cramped quarters. That's why it's essential to figure out how to create a home office in a small space, so you can have a creative area no matter where you live.
If you live in a city apartment or an already-full house, you may think that a home office is out of the question. But the good news is, with a little creativity and some thoughtfully picked items, you can set up a work nook in any room. Janice Simonsen, design spokesperson for Ikea USA, speaks from professional and personal from experience. "I live in a one-bedroom condo, so my work area is a corner of my kitchen," she says. "It must be functional, simple, and blend into the decor of my apartment."
Scroll on for more expert tips on how to integrate your office must-haves into any space. From organization advice to finding non-obtrusive furniture (read: the perfect desk), two design pros share their favorite products and ideas for setting up shop when square footage is limited.
Find A Desk With A Sleek Silhouette
When you have the right desk, you can make a "home office" anywhere, even if it's in a corner nook. If your space is on the cozy side, Caitlin Murray, founder & CEO of Black Lacquer Design, recommends looking for a piece with a sleek silhouette. "I like a Parsons-style writing desk because they're space saving and visually delicate — bonus if there are discreet drawers," she says. Some of her cleverest designs include anchoring a desk in a living room corner and setting one up behind a couch. As long as the desk isn't clunky, it'll blend right in.
Organize Papers
"Strive to keep paper from taking over your space. Nothing makes a work area look messier!" says Simonsen. When it comes to keeping documents handy but tidy, she has two words: hot files. "I can't function without my current projects being readily available in my work area," she explains. "Since my desk is quite small and I want to keep a clean, uncluttered look, I like to attach a sleek file holder like the KVISSLE on the wall nearby, and limit files to those that can be stored."
If work takes you out of the office, Murray says that a multi-functional clipboard/folder hybrids below are a total lifesaver. "I love a good clipboard for on-site meetings and measurements," says the designer, "Bonus points because this cheeky one reminds me of wallpaper!"
Use Desk Accessories That Are Functional & Fashionable
If you're setting up shop in a small room, remember that everything you add will make a visual impact. So, when decking out your desk, opt for items that are both practical and serve as additional decor. "I'm all about vintage desk accessories," says Murray. "You can find some really fun and fancy stuff," she says, adding "you can never go wrong with Lucite." (Try a clear desk chair for a modern, minimalist look, like in the photo below.) When every item fits a similar style, the vibe of your space will look cohesive instead of thrown together.
Conceal & Eliminate Clutter
Random odds and ends are inevitable, but giving them a stylish home will help keep clutter at bay. "A small drawer unit like the HELMER keeps everything close at hand, but out of sight," says Simonsen. You can compartmentalize even more by tucking an organizer into your drawers to stop stray thumb tacks and paper clips from sliding around.
As for unsightly power chords, you can tuck them away and eliminate as many as you can. "I try to minimize cords and wires whenever possible," Simonsen offers. "The RIGGAD lamp with built-in wireless charging provides double duty for task lighting and phone charging." Bonus: You're much less likely to lose a lamp than your phone charger.
Take Note(s)
Whether you're a sticky note-scrawler, to-do list-maker, or you live by your planner, no technology can replace the satisfaction and ease of writing something down (and then crossing it off). If you have planners, notebooks, and notepads galore, treat yourself to some chic office supplies that become your scribbling go-tos (good-bye, yellow legal pads). Not only are you more apt to use them, when it's time to tidy up, you can pile them up in a pretty little stack on the corner of your desk.