This 2019 Fashion Trend Has Made Its Way Into Home Decor — & It's Surprisingly Sophisticated
Etsy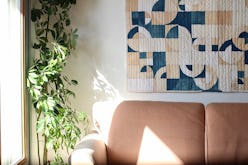 You can't always count on a fashion trend to make its way into your home. However, one of 2019's favorite patterns has managed to jump from ready-to-wear collections to furniture, bedding, and more. Tie-dye home decor is trending on Etsy, according to the brand's 2019 Home Decor Trend Guide — but the playful print has grown up since its first time in the limelight.
"You may have noticed it trickling into fashion, but we're calling it right now: with 267k searches on Etsy over the past three months, 'tie-dye' is the latest '70s trend making a comeback in home decor," Etsy's trend expert Dayna Isom Johnson wrote in the guide. "The iconic pattern is showing up on everything from bedding to mirrors, but unlike the tie-dye of decades past, this new approach feels more sophisticated — 2019's tie-dye uses lighter hues and pastels for a more muted take on the print (we like to think of it as floral's fun and rebellious cousin)."
It's no surprise to Etsy that this throwback trend is gaining momentum. Johnson noted that "'70s" has been searched for 1.7 million times during the last year, adding that she believed that the retro trend "is here to stay."
But just putting on a tie-dye shirt can sometimes feel too loud and busy — how are you supposed to style it peacefully in your home? As with all things, moderation is key. Choose one element of traditional tie-dye to lean into, whether it's the organic pattern or the brighter colors. Inspired by the Japanese dye technique, shibori home decor is a quick way to add tie-dye's je ne sais quoi patterning without overwhelming your space with bold colors.
You can simply opt for hand-dyed fabrics or monochromatic tie-dyes, too, which often naturally show variegated patterns; Marram — a mother-daughter duo from France — created the fabrics in its $225.51 Naturally Dyed Quilt by hand using avocados, coffee, and indigo. But instead of a more traditional tie-dye swirl or stripe, Marram then pieced the quilt together in geometric shapes, unexpectedly breathing new life into an established trend. (It doesn't hurt that the colorful end result is just reminiscent of tie-dye enough to fit the trend's bill, as well.)
It only takes a little creativity to bring tie-dye's energy into your home. Ahead, 10 ways to incorporate the trend in a modern way.