Shop Pantone's Color Of The Year In Home Decor Without Going Broke
New Africa/Shutterstock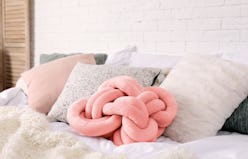 Each year — and season for that matter — Pantone puts a lot of thought and research into which colors it pronounces as the next big trend. And that's especially true for the hue it deems Color of the Year. For 2019, Living Coral was chosen based on trend analysis and inspiration found worldwide, and the company predicts that you'll be seeing the shade show up everywhere from your favorite clothing brand to paint swatches at your local hardware store. And because the color is so on-trend, trying it out doesn't mean having to spend a ton of money. In fact, there are many retailers offering Pantone's 2019 Color of the Year in affordable home decor pieces under $100.
A bit more about Living Coral: Pantone describes the color as "An animating and life-affirming coral hue with a golden undertone that energizes and enlivens with a softer edge," and says that the playful, sociable shade is a reaction to "onslaught of digital technology and social media increasingly embedding into daily life." It's punchy, vibrant nature makes it ideal for color enthusiasts, but it's also a lot more versatile in your home than you might expect, since it's neither masculine nor feminine.
As one of the biggest interior trends for next year (along with mustard yellow, geometric wallpaper, sustainable/natural materials, and plush textiles), Living Coral is popping up in the collections of both indie and major home decor brands and retailers alike, so it's not hard to find ways to try it out in your own abode — even if you're trying to stick to a firm budget.
After splurging over the holidays, many of you are probably trying to reign in your spending, but you can still inject a little Living Coral into your home even if you've got as little as $6. To prove this point, ahead find 10 pieces under $100 that can add coral's positive vibes to any room in your home, from luxurious bedding to stylish storage boxes.
The coral scalloped pattern of this storage box from H&M Home is so fun and playful, you won't want it stashed out of sight.
A small ceramic piece is the perfect way to try out a bold color like Living Coral, and it will provide the perfect pop in a sea of neutrals.
These smooth percale sheets will improve your sleep situation two-fold: giving you a more comfortable rest with the soft, breathable fabric, and bringing the bold new color to your bed.
This serving tray is the perfect vehicle for drinks or snacks next time you're hosting a party, but it's also a great accessory to dress up your coffee or side table with a bit of coral.
Wallpaper and decals are more accessible than ever, thanks to the fact that so many brands are offering peel-and-stick options. This polka-dot option from Pottery Barn lets you try out Living Coral on your walls, without making a permanent commitment.
Bring a little of Pantone's 2019 Color of the Year outdoors, with his mosaic table that will make anyone's patio a little prettier.
Liven up any room with this accent rug in a classic herringbone pattern.
Try a more muted take on Living Coral with this polka-dotted accent pillow from Anthropologie.
Throw blankets are a great way to try out a bold color, since they can be as visible (or invisible) as you'd like. Plus you can toss them over any piece of furniture to make it instantly more current and interesting.
Urban Outfitters and Crosley teamed up to create a coral version of its popular bluetooth record player, and it's the quintessential cool home accessory.