How To Incorporate Pantone's 2019 Color Of The Year Into Your Wardrobe Now
Pantone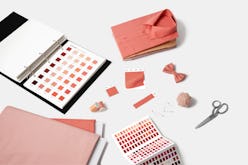 As we reach the end of the year, the time has come for the Pantone 2019 Color of the Year to be announced. In a selective process that requires reflecting on the past 12 months while also looking forward to the months that follow New Year's Day, the Pantone Color Institute has finally settled on the color set to represent 2019: Living Coral. According to the color brand, this vibrant yet calming hue is a nod to the innate need for optimism and lighthearted pursuits — something anyone can get behind.
Taking inspiration from its namesake, Living Coral boasts a shade of orange with a gold undertone and, as a reaction to the ever-changing digital technology and social media landscape, is meant to provide the comfort and buoyancy of playful expression. Much like its predecessors Ultra Violet and Greenery, Living Coral evokes the feeling of positive thinking and hope for the future, while also offering a relief from the occasionally overwhelming environment that surrounds it. All things considered, if you're ready to kick off 2019 on a high note, why not get yourself into the right mood and mix Living Coral into your wardrobe as you pursue your own lighthearted endeavors?
Set new intentions for your workouts in the coming year with these TechSweat 7/8 Flex Leggings from Outdoor Voices, which are on sale for $44. While you're at it, create a coordinated outfit with a pair of these Saucony Jazz Low Pro sneakers, which cost $60. These colorful pieces will actually get you excited to head to the gym.
If you want something you can start wearing during the dead of winter, this creamy The Elder Statesman Turtleneck Sweater, $710, will be one to wear with everything you own, whether it's with a pair of blue jeans or these Silk-Jacquard Wide-Leg Pants from Etro, which cost $930, for a head-turning tonal ensemble. Finish off the look with this chic Banff Wool Scarf from Aritzia, $98, to get add on another layer without putting in too much thought.
For the nights you plan on going out, whether it's with your best friends or your S.O., wear this pretty Brielle Tank by Farrow, on sale for $9.99, which can be worn on its own or layered over a lightweight turtleneck or T-shirt when you need more coverage. Or, if you just want to wear the Color of the Year in a subtler way, these classic Christian Louboutin So Kate 120 Patent-Leather Pumps will be the perfect way to add a pop of color to any look. On another note, if you have a formal event like a wedding to attend, this beautiful Stine Goya dress will feel perfect for the occasion. Plus, with such a playful color, it'll work in any season.
While you might not know exactly what to expect for the upcoming year, these coral-hued pieces will get you excited to embrace the essence of Pantone's Living Coral. Keep scrolling to shop more pieces so you can start wearing the 2019 Pantone Color of the Year now.