This Solution For Thinning Hair Is Honestly Game-Changing
Joern Pollex/Getty Images Entertainment/Getty Images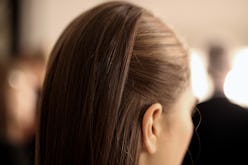 The health and wellness industry tends to treat hair loss as a men's issue — ads for Rogaine and infomercials for Bosley all feature the stereotypical candidate for hair loss treatment: a balding, middle aged man. But according to the American Academy of Dermatology, about 40 percent of women experience visible hair loss, including thinning strands and bald patches, by the age of 40. (That number only grows as women age.) Despite the facts, resources and treatments for women dealing with this particular issue are few and far between — which is exactly what makes scalp micropigmentation for hair loss so groundbreaking.
Read more: How Microneedling For Hair Loss Leads To A Head Full Of Healthy Hair
"Hair thinning and hair loss are common concerns that can be caused by genetics, hormonal changes, and stress," Dr. Paul Jarrod Frank, a celebrity cosmetic dermatologist and founder of the PFRANKMD brand and PFRANKMD Skin Salons, tells The Zoe Report. "It can also cause emotional distress." That's part of the reason why the cosmetic dermatologist now offers scalp micropigmentation at his salons. During the treatment, an aesthetician tattoos the scalp with a series of dots (to mimic hair follicles) and strokes (to simulate strands of hair), effectively camouflaging any thinning areas or bald spots in just a few hours. "This technique gives quick results," Dr. Frank says; and immediate coverage is key for women looking for an easy, long-term solution that doesn't require a ton of upkeep — or mental space.
Think of it as microblading for the scalp. "The process involves tattooing in areas experiencing hair loss to effectively blend in with the surrounding scalp and hair for a more natural look," Christopher Drummond, a licensed aesthetician and microblading master at PFRANKMD Skin Salon, tells TZR. But where microblading (a semi-permanent tattoo technique for brows) relies on a manual hand tool, "scalp micropigmentation uses a digital machine to create 'hair follicle simulation,'" Drummond explains.
The results are surprisingly natural-looking. "By using a combination of micro-fine hair strokes and micro-dots, or pixels, you can get a very realistic-looking fill of an area that has sparse hair," Drummond says. The aesthetician notes that women with thinning or receding hair are the best candidates for scalp micropigmentation — "it's a better solution than a hair transplant" — and maintains that the process is virtually risk-free and can work for women of all hair types. There is a chance that those with extremely oily scalps may see some of the tattooed dots run together, "but this rarely happens," he says.
The cost of scalp micropigmentation varies, depending on what is needed. Small areas start at $1,500, and larger undertakings can cost as much as $5,000; so it's best to schedule a consultation with an aesthetician beforehand to get a sense of your individuals needs. "The average appointment takes two to three hours per area," Drummond says. "A full head generally takes two days." And thanks to micropigmentation's recent rise in popularity, there's a good chance a cosmetic dermatologist in your area offers the procedure.
Because micropigmentation involves tattooing, it's essential to avoid aspirin, fish oil, vitamin E, and ibuprofen in the days leading up to the treatment; these are said to thin the blood, and may interfere with the tattoo pigment. Afterwards, be prepared for "some tenderness or soreness," Drummond tells TZR. In some cases, patients also experience flaking of the scalp, much like dandruff, while the tattooed area heals.
"Scalp micropigmentation is a great addition to topicals, such as Rogaine," Dr. Frank adds. "When done with artistry, it looks great and allows for immediate cosmetic enhancement." Because, really, what woman has extra time to spend worrying about thinning hair?