Room Divider Ideas That Will Make Even The Smallest Spaces Look Huge
Photographee.eu/Shutterstock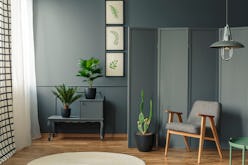 If you're living in a less-than-large space, you know that the struggle is real when it comes to creating a home that feels spacious, no matter how much square footage you're working with. The goal is to make you and your guests feel cozy — not claustrophobic. That said, by investing in the right pieces as well as knowing how to utilize them, even the teensiest of abodes can feel downright airy. Specifically, by implementing one of a few brilliant room divider ideas, you can separate small rooms and lofts without sacrificing much space.
There are a ton of ways you can make your small bedroom, living room, or any tiny space look bigger, but things get a lot trickier when you're trying to divide up the area. Whether it be because you're trying to create some much needed privacy or you're trying to define different rooms within an open floor plan, a room divider can be a real asset. But how to keep them from feeling bulky requires some expert advice.
Considering the fact that the talented designers behind Studio Gild have had their stunning work featured in the most well-respected interior design publications, you might say they've mastered the art of maximizing space. For that reason, the co-founders of this Chicago and Los Angeles-based firm have some creative and functional ways to use room dividers, no matter how small the space is that you're revamping. Ahead, find a few ideas to consider if you're looking to divvy up your own itty-bitty pad.
Return To The Fold
Folding room dividers are popular for good reason: When you're not using them, they can easily be moved and stashed out of the way. And that's an especially useful tool when you're working with a limited amount of space.
Find A Dual Purpose Piece
"To maximize the space, consider a bookshelf room divider with storage," says Studio Gild designer Jennie Bishop. "This multipurpose décor piece will give you the sophisticated look you are going for, while keeping your space organized and clutter-free." You can also use this type of piece to create a DIY vertical garden. Just fill the shelves or modules with some indoor-friendly plant babies.
Give It The Window Treatment
And easy and economical way to divide a room is by using a curtain or window treatment, which can be swiftly slid out of the way when you want your place to feel more open — plus utilizing something that hangs from the ceiling saves on precious floor space, as designer Kristen Ekeland points out.
Think Clearly
A clear or see-through divider is a chic way to split up any space while allowing it to still feel super bright and airy. "Due to the ability for sunlight to shine through and your line of vision to be unobscured, this type of divider can help section off specific areas without leaving it feeling closed off," explains Melissa Benham. One affordable way to try this approach is by installing these glass doors you can find at IKEA.