The Home Decor Trend That'll Add Instant Life To Your Living Room — Literally
archideaphoto/Shutterstock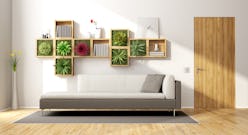 Nothing like a little home refresh to start the new year off right. Improving your living space can do wonders for your mood, whether that be upgrading your bedding for a better night's sleep or decluttering your desk area. But one of the biggest trends in home decor can actually bring new life (literally) into any room by making use of plants in a whole new way. There are a ton of indoor vertical gardens that make a major statement — but trying out this trend doesn't have to be as difficult as it seems.
Think of vertical gardens as another means of creating a cool accent wall. Much like a gallery wall, this is a way of offering a unique and often dramatic focal point in a room — though this addition will require a bit of extra attention. That said, with the use of easy-to-care-for plants, indoor planters, or a handful of other tricks, you don't have to be a certified plant whisperer to be able to make a vertical wall work.
As a designer for digital interior design platform Homepolish, Michelle Zacks has managed to work some green wall magic in a variety of different homes. "I've done DIY versions of vertical gardens for some of my interior design clients, both for outdoor spaces like patios, or indoor spaces, like an accent wall or a wall that can be used as a divider between two interior spaces," she explains. According to her, all you need to be a good candidate for maintaining one is have plenty of natural light in your space and be willing to do the occasional watering, trimming, pruning, etc.
The way Zacks sees it, the benefits truly outweigh any minimal work required to install and keep up with your living plant wall. "I think people really respond to the idea of indoor/outdoor living," she says. "The idea of bringing nature into your home or a workplace is beautiful but also quite comforting." If that all sounds like 2019 goals to you, see ahead for the designer's best tips for installing your very own vertical wall — regardless of your level of expertise.
Find Your Inspiration
A great place to get started is with your favorite social platforms, according to Zacks. "Online resources like Pinterest or even Instagram are loaded with images of vertical gardens," she explains. "Find one great image that you like and use it as a starting point to recreate something similar in your own space."
Keep It Simple
If you're going the DIY route, and your green thumb leaves a bit to be desired, start off small. "You could do a really unstructured, pared down version 'inspired by' a green wall, like [a divider] wall I did for a Homepolish client's plant-filled bedroom," Zacks says. "It's not a classic vertical garden but it's a deconstructed version of one." Make this less-assembly-required version even easier by utilizing succulents, which require less babying than other types of plants.
If you do want to try a traditional wall-mounted garden, the designer suggests utilizing products that make the process easier. "A simple way to start your own green wall would be with a product specifically made for growing one. The Plant Portrait from Urbilis, for example, is especially appealing because it's lovely and simple," she adds.
Get Creepy
A trellis will help you grow a "creeping" plant (like ivy) up your wall, creating a different kind of living wall. If this option sounds appealing to you, Zacks has a suggestion. "If you're looking for a little inspiration to [get started], check out designer Frédéric Malphettes' trellis vertical gardens," she offers. "This idea could be achieved with a planter, some wire and a few nails or tacks. Just add water and sunlight."
Know When To Outsource
Depending on your dream result, it's important to know when to call in the actual experts. "If you have the budget for it, go to a pro," Zacks recommends. "I've seen some beautiful indoor vertical walls made by professional gardening companies," she adds.