This Easy Tip Will Make Your Bedroom Look More Spacious Than It Is
Christian Torres for Homepolish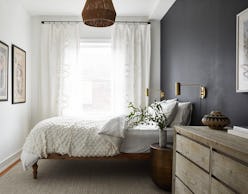 Very few people are currently living in what they'd consider to be the perfect space, whether it be because of a lack of storage areas, minimal lighting, or a bathroom that hasn't been updated since the 1970s. A main design challenge can be a shortage of square footage, and when that issue affects your boudoir it can seem tricky to figure out how to make it feel more cramped than cozy. Thankfully, when you know some genius ideas for small bedrooms, it's not as impossible as it seems to create a dream-inducing space.
There are certain go-to methods designers use to make any room look bigger, from lighting tricks that can — literally — brighten up a teeny tiny living room, closet organization that keeps clutter at bay, or storage ideas that can make the most of your small kitchen, but bedrooms can often present their own share of struggles. That said, as a designer for digital interior design liaison Homepolish, Mandy Cheng isn't phased by such things. Considering the fact that the company links you to design pros (like herself) and uses a concierge service to make purchases, it's practically immune to any design challenges you can throw its way — including your small bedroom.
If you're looking to make the most of what you've got in your bedroom, Cheng has some tips that just might be a game changer. Ahead, find four things to consider when shopping for furniture, taking on some home improvements, and otherwise utilizing every square inch to your advantage.
Think Proportionately
Everyone loves a big bed, but when your room is on the smaller size, your California king probably isn't the smartest option. "The most important thing is to be realistic with the size of your furniture," advises Cheng. "If your bed is too big, it will feel very cramped and difficult to navigate so make sure it's appropriately sized. If this is the main bedroom, make sure you're able to fit nightstands (with storage options preferably) on either side as well."
Get Savvy About Storage
Less space likely means you'll have to use less furniture in general. That said, the pieces you do keep in here should be as functional as possible. "Once you have your bed and nightstands in place, see if there is room for storage under the bed," says Cheng.
Tons of brands make bed frames with drawers or cubby holes built in — or you can create the same effect by raising up the bed and stashing some storage baskets or pretty boxes underneath. "Places like The Container Store sell lots of options for under bed storage, and if you need a little more room to get them to fit, they also sell bed riser options," she adds. "Put your less used items like extra blankets, bedding, seasonal clothing and shoes under there to free up space in your closet."
Utilize Your Wall Space
"Install wall shelving instead of bookcases to keep the room spacious," suggests Cheng. "Consider putting shelves along the upper perimeter of the room. Books and small artwork will look great up there and keep the clutter off the floor."
Another way to utilize wall space is with lighting. For example, a wall scone lamp can save space while providing much needed illumination. "Bedside table lamps tend to be bulky, the shade gets in the way, and the remaining surface area on your nightstand is minimal," she adds. "With a wall sconce, you free up surface space and make everything look neater."
Give It A Loft
If you've got a small space, but a high ceiling, Cheng suggests you consider lofting your bed. In fact, it's a tactic she's currently using with a client. "I'm lofting the bed above the doorframe, building drawer storage into the stairs, re-purposing some IKEA closets the client already has and building a desk into the remaining space," she explains. "By maximizing the height of the room and getting the big pieces off the floor as much as possible, it will make the room feel much more open and give you a more navigable space."