How To Wear The Pantone Color Of The Year Like A Royal
Pablo Blazquez Dominguez/Getty Images Entertainment/Getty Images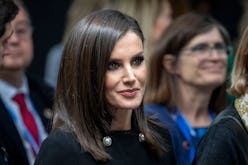 No one does style quite like a royal. Whether it's a chic better-known member or another major monarch like Letizia Ortiz Rocasolano — otherwise known as the Queen of Spain — those in the uppermost echelon of society know how to precisely execute polished, approachable style while maintaining a certain regal air. For the moments when they're scheduled to make public appearances, these leading ladies typically take an elevated approach to the fashion industry's latest trends, and Queen Letizia's coat dress takes on Pantone's color of the year in a way that will inspire anyone to start wearing the shade.
The Queen of Spain has already proven more than enough times that she's the type of person who is not merely interested in fashion — she's enthusiastic. Whether she's donning a royal-approved version of the neon trend or dressing up an under-$150 dress from ASOS, Queen Letizia is no stranger to the sartorial world. And while she always upholds her dress code as a highly regarded, political woman of the world, she isn't afraid to go for something a little more daring, either. Such was the case when she attended the traditional celebration of the Pascua Militar in Madrid with her husband King Felipe on Jan. 6.
The Queen showed her appreciation for the Spanish military wearing a cobalt blue floor-length dress — which featured lapels and long sleeves to resemble a winter coat. And to further showcase her knack for style, the Spanish royal complemented her ensemble with classic black pointy-toe pumps and pearl stud earrings.
In the season where neutral hues and dark tones reign supreme over those of the more vibrant category, Queen Letizia's bold blue dress — which also happens to be in the same shade as Pantone's color of the year, Classic Blue — feels like a refreshing start to the new year. And coincidentally, this optimistic shade was chosen as a color that looks forward to what's next, making the Queen's elegant dress a perfect option to wear for the turn of the decade.
If Queen Letizia's dress has convinced you to start incorporating Classic Blue into your 2020 ensembles, scroll down and shop for a similar coat, below.