Queen Letizia Just Made This $119 ASOS Dress Look So Expensive
Belen Diaz/DYDPPA/Shutterstock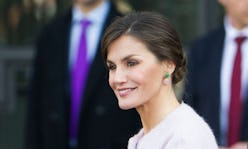 How could one of the chicest royals in the world also be one of the most budget-friendly? Ask Queen Letizia, who always seems to make every affordable thing in her closet (and there are many) look wildly expensive without fail. The flouncy frock she just wore during an outing with China's first lady, for instance, looked like it cost a million dollars, but believe it or not, Queen Letizia of Spain's pink floral dress is actually a $120 ASOS find.
The Spanish royal family welcomed the president and first lady of China to their country on Weds., and Queen Letizia got in some quality time with First Lady Peng Liyuan. The always-stylish monarch sported an ultra-feminine botanical-print frock to the Royal Theatre in Madrid, where she and Liyuan were treated to performances and meet-and-greets. The elegant A-line midi was the prettiest pick for the occasion, too, with flowers trailing down the sleeves and a bird embroidered on the front. And while Queen Letizia's dress looked like a designer piece, it only set her back $120. You can even snag it yourself, because it's still available on ASOS.
Queen Letizia paired the dress with pointed-toe pumps and a pastel pink mohair coat from Carolina Herrera's 2017 Fall/Winter collection. She stuck with the affordable-fashion motif when she chose her jewelry, too, accessorizing with $213 two-toned pink-and-jade drop earrings from Madrid jeweler Coolook.
Even though the fashion-forward royal has access to just about any brand in the world, she still sports pieces that she could have afforded when she was a commoner. Like budget-friendly duchesses Kate Middleton and Meghan Markle, Queen Letizia shares an affection for Zara and Mango, too.
A month ago, she wore the same $195 onyx Monica Vinader earrings that Middleton has worn repeatedly — on St. Patrick's Day, to the Diana Memorial Garden, and on her first day back from maternity leave this year. Then, a week later, she wore a $40 plaid top from Zara. Queen Letizia has also sported Steve Madden heels, a $125 Adolfo Dominquez skirt, and inexpensive Mint & Rose espadrilles over the past year.
She doesn't mind wearing her bargain finds to formal engagements either, like to her latest rendezvous with Peng Liyuan. The royal has worn a $40 Topshop blouse to Buckingham Palace and a $90 Zara dress to Zarzuela Palace just the same.
When she does opt for higher-end apparel, she often reaches for pieces by Cortana and Hugo Boss. Her style is elegant, timeless, and super feminine — think pleated skirts and girly florals — but this Queen certainly isn't afraid to try out a risky trend. This past Oct., she paired a leather jacket with velvet wide-leg trousers, then she merged menswear with a feminine look by pairing a topcoat over a metallic skirt.
Needless to say, Queen Letizia of Spain should be your style inspiration for every occasion. Not only are her elegant looks so easy to create, they're easy on your budget, too. Now, go add that ASOS dress to your cart before it sells out (and you can be sure that it will).
Shop The Look