Queen Letizia Just Gave Neon Pink Her Stamp Of Approval With A Bold Dress
Carlos Alvarez/Getty Images Entertainment/Getty Images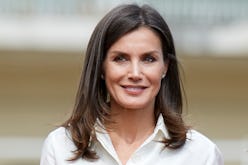 The boldest trend of summer has to be highlighter hues. Nearly every storefront is lit up with neons so bright you need a pair of polarized sunglasses just to window shop nowadays. While you might think the vivid shades are exclusively a street-style craze, Queen Letizia's hot-pink dress is proof that they could be a fit for your work wardrobe, too.
There's hardly anything more intimidating than walking out of your apartment wearing full-on slime green, safety yellow, or bright tangerine. Modest dressers are apt to cast off this color trend altogether. That is, until they see what the ever-elegant Queen of Spain is wearing.
This fashion-savvy royal has never been afraid of a bold trend before and she certainly isn't going to shy away from one now. Her Royal Highness debuted a neon dress as she delivered the Queen Letizia 2018 Awards at the Corral de Comedias Theater in Almagro on Tues.
You simply couldn't have missed her floating through the ecstatic crowd, considering she was literally the brightest of them all. Her bespoke Carolina Herrera midi might have been a regular old outfit if it weren't for its punchy pink hue. Instead, the magenta dress proved that neon can be made elegant, too.
You can count on this Spanish monarch to always be wearing the latest thing, whether it be a pair of clear pumps, a snake-print skirt, or daring monochrome. She blends the latest runway trends into her timeless aesthetic effortlessly, leaving us, commoners, with endless inspiration for contemporary office style.
Curating a work outfit that's both chic and professional is a feat, but this royal makes it look so easy. This time, she let her neon fit-and-flare do all the talking, keeping the rest of the look subdued with contrasting emerald earrings and nude heels.
Channel her look with a statement dress of your own. Queen Letizia's was custom, but find a few of The Zoe Report's favorite alternatives, ahead.
Shop The Look