This Simple (& Surprising) Decor Piece Will Make Any Outside Space Look Huge
Courtesy: Outer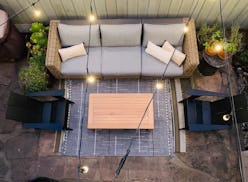 With warmer weather upon us, now is the time to think about utilizing your outdoor space. Whether you're a lounger, an entertainer, a conversationalist, or all three, you can make your deck, patio, or yard fit your style — even if you're short on square footage. And with some designer-approved outdoor decor ideas to make your small space look huge, your personal sanctuary will not only look airier; it'll be more functional, too.
Terry Lin, co-founder and chief design officer at Outer, says there are plenty of advantages to working with tighter areas. "People who have smaller outdoor spaces might treat it as more of a luxury than those with larger spaces," he points out. "The urban dweller may value access to fresh air and a private retreat more than a family with an abundance of outdoor space. A higher level of restraint is necessary with more thought put into each item you incorporate into your space." Point being? You can focus on customizing your nook with a few quality, curated pieces that turn it into a true haven.
Ahead, designers weigh in with their best tips, tricks, and advice for making the most of a small outdoor area. From picking multi-tasking furniture to adding a few cozy touches, you can create an oasis right outside your door, no matter the size of the space. While vacations are nice, your summer escape could be right in your own backyard — no traveling required.
Pick Proportionate Pieces
"Any time you're designing a small space, whether it's indoors or out, you want to be sure to look for furniture that's scaled properly," says Caitlin Murray, founder and interior designer at Black Lacquer Design. "You want everything to look like it belongs there size-wise, not like you tried to cram in an outdoor sofa meant for a much larger area."
However, she adds that too many petite pieces may look more like a playhouse than a sanctuary for grown-ups. So how do you achieve the perfect balance? "I suggest finding one large piece that can act as the focal point for the outside space and provide dramatic effect," says Ariel Kaye, founder and CEO of Parachute. "Think: A great wood table, cozy loveseat, or unique chairs. From there, smaller, functional pieces can be added to help enhance the vibe."
Be Mindful Of Materials, Colors, & Patterns
Lin mentions that lighter materials can also make a tight area feel larger. "Materials and visual weight can ensure that a space doesn't feel too crowded," he says. For instance, "opt for a wireframe coffee table versus one with thick legs, which creates a visual heaviness."
When it comes to choosing fabrics, he says that prints can really make a statement, but choose thoughtfully. "If you love patterns for pillows, stick to the same color palette so they feel cohesive, then ground the grouping with solid or color-block pillows," he recommends.
Opt For Multi-Functional Furniture
Emilie Baltorinic-Navarro, interior designer at Living Spaces, points out that spaces can serve multiple purposes if you're strategic with your furniture. "Maybe you love hosting dinner parties and need seating for six to eight, or you really want to enjoy a warm fire with a few comfy seats and a propane fire pit, or maybe you want plush outdoor lounge seating to fit you and a few friends," she gives as an example. "You can achieve all three if you select comfortable bench lounge seating with a dining-height table that has a fire pit built into the center of the table."
Other simple, versatile ideas include coffee tables that double as a benches ("It could serve as extra seating when you have guests over," says Lin), poufs to use for sitting or side tables, and ottomans that open to provide storage space.
Anchor Everything With An Area Rug
Rugs are one of those pieces that can seamlessly tie everything together (bonus: they won't add any clutter). Murray mentions that they can "frame and establish the space you have," even when square footage is scarce. Adds Baltorinic-Navarro, "An outdoor area rug under a dining table or lounge area will create the illusion that your space is bigger than it actually is."
Eliminate Clutter
While the maximalist trend may be in, try to focus on filling a small space with color, texture, and prints (as mentioned above), not excess stuff. "With limited square footage, it's key to have a space that feels open, calm and welcoming," advises Kaye. "Be thoughtful about what you want outdoors, and store or do away with the rest. An overly cluttered area can feel distracting and anxiety-inducing — definitely not what you want to be feeling in your backyard oasis."
Incorporate Vertical Decor
Another design trick is to incorporate decor that draws attention upward. "Go [with vertical decor] to bring your eye up with string lights or hanging plants," suggests Shelby Greene, interior decorator at Living Spaces. Baltorinic-Navarro also suggests "the use of taller plants or trees [to] create height in the space."
If your haven is on the sunny side, don't forget to put out a cute umbrella; it's both pretty and practical.
Enhance The Coziness
Greene shares her foolproof technique for making your sanctuary feel quaint instead of cramped. "My go-to is a charming bistro table set," she says. "If space allows, a couple of lounge chairs with an accent table in between to soften up the space."
And according to Kaye, there's one simple accent piece that's a must-have in any setting. "I always keep a few throw blankets available to wrap myself in when it's chilly," she says. "It's the ultimate cozy touch for an outdoor space."