If You're Only Doing Aspen In The Winter, You're Doing It Wrong
My Good Images/Shutterstock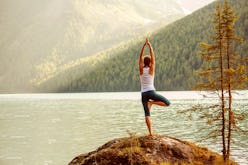 After a long and incredible winter of epic snow in mountain towns around the country, it is finally time for the white to turn to green. And while people often think of popular winter destinations like Aspen as solely suitable for the colder months, the snowmelt actually opens up a world of possibilities for those who prefer warm-weather activities. In fact, many mountain towns welcome even more visitors during the summer months than throughout the winter thanks to being easier to get to without the snow factor and the fact that warm temps bring a wider array of activities to enjoy.
Where skiing and snow sports rule the winters, summer brings opportunities for hiking, white-water rafting, kayaking, horseback riding, biking, and a truly endless list of cultural offerings. A few of the country's most popular ski destinations in Colorado, Utah, Idaho and Wyoming offer a vast to-do list of ways to get into nature, relax, recharge, and indulge. They all have good music, great accommodations and plenty of appealing options for dining and imbibing. There are also outdoor concerts, top-notch lectures, and festivals of every kind. Perhaps this summer is the perfect time to forgo the typical beach vacation for something at a higher altitude. You just might like the view.
Aspen, Colorado
Aspen, Colorado is known as a winter playground thanks to world-class skiing on four mountains and a legendary après ski scene, but those in the know realize that summer is the best season of all in the Rockies. There are even more sports to enjoy in the summer thanks to incredible hiking and mountain biking trails on those aforementioned four mountains, not to mention the epic road biking to places like the Maroon Bells, said to be the most photographed mountains in North America. You can also horseback ride at T-Lazy 7 Ranch, whitewater raft on the Roaring Fork, or go rock-climbing on Independence Pass.
But the fun isn't just for the uber-athletic: The town's rich cultural scene makes planning a day a serious challenge due to the amount of options. The Aspen Art Museum is housed in a Shigeru Ban-designed building in downtown Aspen and features a rotating series of cutting-edge exhibits. This summer, the museum also launches a Fashion Lecture Series with its first subject, Cynthia Rowley, speaking in August. A short drive to Snowmass will bring you to the stunning campus of Anderson Ranch, which boasts a popular summer lecture series featuring artists, curators, critics and collectors.
And music lovers have plenty to get excited about: The Aspen Music Festival and School is a renowned classical music festival that brings famous musicians and the best and brightest music students to town for a series of amazing concerts throughout town and at the acoustically perfect Benedict Music Tent. Jazz lovers will revel in the Jazz Aspen Snowmass JAS Café Summer Series, which features an array of jazz acts at locations around town, but everyone will want to attend the nonprofit's Labor Day Festival, sending Aspen's epic summer out in style with headliners including John Mayer and Sting.
As for where and what to eat, almost every restaurant — from Matsuhisa and Jimmy's to White House Tavern and the mountainside Ajax Tavern—has outdoor seating, offering delicious dishes with a side of mountain views. There are also plenty of great (and luxe) options for laying your head. There is the historic Hotel Jerome, the five-star, five-diamond Little Nell and the charming Limelight, which has a large lobby perfect for grabbing a drink and a pizza after a big day in the outdoors, often while listening to the sounds of a local band.
Sun Valley, Idaho
Considered America's first ski resort, the Sun Valley/Ketchum area was a booming mountain town in the 1880s, but post boom it became sleepy until the Union Pacific train began to transport celebs from California in an effort to grow the ski destination. It soon worked, transforming it into the country's first mountain resort and stomping grounds for a slew of notable names including Ernest Hemingway, who eventually made it his home. (To be clear, Ketchum is the main town and Sun Valley is a resort located a mile away. It boasts the charming and historic Sun Valley Lodge, a definite must for a meal or drink. However, the area is generally referred to as Sun Valley.)
While the Valley has some 400 miles of single-track trails for some of the most scenic mountain biking in the country, 30 miles of paved trails for road biking, endless hiking options on Bald Mountain, and complimentary yoga at the mountain on most Saturday mornings, it is not only physical challenges that lure people to Idaho in the summer. There are also the Sun Valley Center for the Arts–presented concerts at River Run Plaza at the base of the mountain. This summer, Michael Franti, Ziggy Marley, Nathanial Rateliff all make their way to Idaho as part of the series. Continuing Hemingway's legacy in the area, there is the Sun Valley Writers Conference in July, bringing together writers and readers for days of talks, hikes, and obsessing over literature.
And this summer marks the 35th season for the classical Sun Valley Music Festival, which boasts an impressive lineup of free performances featuring chamber-orchestra pieces, Gershwin numbers and large-scale symphonic moments. Dance enthusiasts will want to head to the world-renowned San Francisco Ballet's performance at the Sun Valley Pavilion, presented by Ballet Sun Valley.
As for your sleeping arrangements, reasonable but well-appointed rooms can be found at the well-located Hotel Ketchum. While you're there, you'll want to–well– hang out at The Hangout, where locals and visitors alike gather to grab a cocktail or a light bite.
While you're in town, you'll also want to dive into some of Sun Valley's storied dining spots. One don't miss is Grumpy's, where burgers and 32-ounce beers (aka schooners) have been dished out since 1978, as well as Warfield Distillery & Brewery, which serves craft beers and spirits made in Idaho. And make to stop by The Pioneer Saloon, where you can order the Jim Spud, a baked potato with beef, cheese and all the fixings.
Alta, Utah
Alta is known for serious vertical and legendary skiing, but it's also a beautiful spot for a summer destination. There are 15 miles of summer hiking trails on those storied mountains and tons of mountain biking as well. However, this year's massive winter mean that the hills may be white far into the summer months. All that snow equates to a particular gorgeous bloom, which can be enjoyed at the Wasatch Wildflower Festival in July. Participants can explore the beautiful Uinta-Wasatch-Cache National Forest by taking leisurely strolls or grueling hikes with a trained wildflower guide who will dole out knowledge on the stunning flora and fauna.
The not-faint-of-heart can participate in July's Cirque Series, a 7.1 mile race with 2,545 feet of elevation gain. Those who opt for a more leisurely vacation should check into the new Snowpine Lodge, Alta's first luxury hotel. The incredibly mountain-chic getaway boasts Swen's restaurant, the full-service Gulch Pub, a spa, a swimming pool that looks out onto the mountain, and even a game room. There is also plenty of outdoor space for enjoying Snowpine's slope-side location and beautiful vistas. For an all-inclusive experience, there is the nearby Goldminer's Daughter, a classically rustic and charming Alta experience.
While part of Alta's charm is its remote location up the windy and treacherous Town of Alta Road, it is actually only about an hour outside of Park City when the weather allows, giving visitors the option to head down the hill if they desire a little more action. And don't forget: Alta is also one of the few remaining ski resorts that doesn't allow snowboarding in the winter, so summer is the perfect time to go with your friends who prefer one board over two.
Jackson Hole, Wyoming
With the stunning Grand Tetons looming in the background and a close proximity to Yellowstone National Park and Grand Teton National Park, Jackson Hole is an amazing summer getaway that feels like a true adventure in the Wild West.
Jackson Hole Mountain Resort's serious terrain has made it one of the most beloved ski hills in the country, but it isn't only fun in the winter. Ride the iconic red tram to the summit where you'll be greeted by spectacular, 360-degree views of the Tetons and surrounding peaks. Hike, bike, trail run or climb and then reward yourself with a waffle at Corbet's Cabin. Or try the new Via Ferrata, a climbing adventure on the mountain that takes you over suspended bridges and up granite walls.
Of course, like all mountain towns, there is biking, but in Jackson they do it right: The town of Jackson and Teton Village (where Jackson Hole Mountain Resort is located) are 12 miles apart, so if you want to bike one way and not the other, you can do a one-way rental at Teton Village Sports or Hoback Sports and ride the bus home. Genius if you ask us. You can also fly-fish on the world-class Snake River or embrace your inner cowboy or cowgirl at Spring Creek Ranch by going for a horseback trail ride or enjoying a chuckwagon dinner, complete with Western entertainment.
And no visit to Jackson is complete without a steak at the Snake River Grill and a stop by the Million Dollar Cowboy Bar, where the bar seats are actually saddles, and the music is country. Stay at Hotel Jackson, located right in town, and enjoy mountain contemporary décor and a cozy-chic vibe. While you're there, make sure to check out the rooftop hot tub, read a book in the library, and grab a yummy Mediterranean dish at Figs, the restaurant in the hotel's lobby. If you prefer to stay in Teton Village, head to the boutique Caldera House for a truly dreamy, Instagram-worthy experience.