This Designer-Approved Decor Tip Will Make Your Living Room Look Huge
Parachute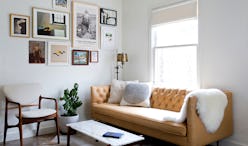 A living room is a common place to accommodate friends and family, but this can be tough when square footage is sparse. Seating, tables, and storage are all essential, but there's a fine line between functionality and overwhelming a room. If this dilemma sounds familiar, stay tuned; you're about to discover some tips for a small living room that you can easily implement (and they're interior designer-approved).
"Being an NYC-native, it's important not to let the size of your room deter you from transforming the space into something that's both functional and relaxing," admits Cyndi Ramirez-Fulton, founder and CEO of Chillhouse. "Instead of focusing on what might be a lack of square footage, shift your attention to all the easy ways in which you can enhance the room."
Ahead, three design experts weigh in on tricks to turn a tight nook into an airy abode. From clever storage solutions, to decor ideas, to multi-purpose furniture with more than one function, these tips will help you utilize every inch of your living area. Whether you're an apartment dweller or you simply live in a small house, guests will view your space as charming and cozy — which is not to be confused with cluttered.
#1. Implement Color & Texture
Add bold accents to a simple backdrop, and you'll create a cohesive look that'll amplify the space. "I like to stick to a natural color palette to create a cozy and calm vibe," recommends Ariel Kaye, founder and CEO of Parachute. "A minimalist look also helps to make a room look bigger." Another tip? "I also like to decorate a small space with texture to add more character and dimension," she says. "A cozy rug, linen decorative pillows, and billowy quilts create a cozy, comfortable atmosphere perfect for relaxing."
Janice Simonsen, an IKEA design spokesperson, agrees that even tight rooms can have big personality. "Use lush, rich colors and fabrics to create the look of a cozy opulent nest," she suggests. "Just be sure not to crowd too many into a small space." She adds, "Lighting that can be dimmed goes a long way towards creating a warm cozy look."
#2. Pick Functional & Multi-Purpose Furniture
When it comes to getting the most bang for your buck (and the most use for your space), opt for essential pieces that are moveable, transformable, and offer extra storage. "Look for products that do double duty; furniture that is flexible and has a lot of function," advises Christine Soner, IKEA design spokesperson. Some ideas, she says, include sofas and tables with extra compartments ("an ottoman that doubles as storage is a must," adds Ramirez-Fulton), mobile carts and tray tables, and anything that's "modular, stackable, nest-able, or movable," says Soner.
#3. Create Illusions With Mirrors
"The old tried-and-true trick of a large mirror or mirror panels on a wall really works to visually increase the size of a room, especially if it reflects an open, spacious view, like an outside space," says Simonsen. "Use one continuous floor treatment and one wall color throughout the space to create a more spacious feel."
"I also like to play with mirrors to make a space look bigger," says Kaye. "The reflection adds depth to a room and amplifies light. Plus, they serve as beautiful pieces of art."
#4. Blend Storage & Style
Keep in mind that your stuff can be out of the way without being hidden. Do you have a stash of blankets, a collection of barware, or a stack of hardcover books? Ramirez-Fulton points out that your trinkets can make a chic, unique statement while adding to your living room's vibe. "I'm a big believer that 'clutter' can represent your style," she explains. "For that reason, I keep tons of my items displayed on clear shelving and in other contemporary storage solutions that keep my items organized, but on display. Just because you're operating in a small space doesn't mean you have to stick to a spic and span decor."
#5. Utilize Wall Space
Another expert tip? Eliminate floor clutter by utilizing wall space. "Creating a functional storage system has made a huge difference in my own home – especially as we prepared for and welcomed our first child," Kaye says from experience. "We incorporated a floating bookshelf into my daughter's nursery, and not only is it a space saver, it looks incredibly stylish! I'm thinking of adding something similar to my living room as well. A bookshelf can take up a lot of space, but the floating shelves provide the same functionality without the bulk."
Consider placing framed artwork, candles, or a row of succulents on your mounted shelves.