ORLY Just Revealed Its Winter Nail Polish Collection — & It's So Unexpected
ORLY/Instagram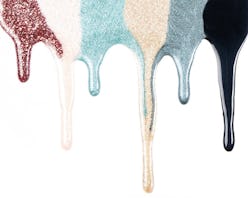 It's that time of year again, people — get ready to see a whole lot of undeniably festive manicures in anticipation of the holidays. Plenty of popular nails brands have already busted out their celebratory collections, and no surprise, they're full of flashy metallics, rich jewel tones, and telltale ruby reds. And that's why ORLY's new Arctic Frost Winter 2019 collection feels like a much-appreciated breath of fresh (albeit wintry) air, thanks to its range of six standout polishes inspired by a frozen place very far north.
While the typical trappings of the holidays have inspired plenty of nail polish drops of late — like essie's new holiday collection — you won't find a single red, green, gold, or silver in ORLY's fresh launch. At least, not in the traditional sense. Instead, the crowd-favorite nail brand took inspiration from the arctic tundra, and turned out a collection of polishes that transports to you the otherworldly destination. And don't worry, there's still plenty of shimmer and shine fitting of the season.
The Arctic Frost Winter 2019 collection, now available on ORLY's site for $9.50 each, bottles up the mystique of the far north with glimmery shades designed to sparkle like snow and ice — essentially guaranteeing you'll stand out amongst a sea of bright red manicures this season.
Cool, icy blue tones anchor the collection, including bold silvery blue Ice Breaker and moodier gray blue Cold Shoulder. Both have a pearlescent shimmery finish, and present playful updates to a typical silver metallic holiday manicure. Or, go for Ice Breaker, a deep charcoal blue-black that sparkles like obsidian. It's a chic way to do dark nails for the holidays, and will pair well with glam holiday party looks.
Then, the Arctic Frost lineup takes an unexpected turn, with some warmer shades that wouldn't initially come to mind when you think about the frozen winter landscape. Gilded Glow is fittingly named for its shimmery golden shade, and Snow Worries is a hue that could be described as cotton candy-tinted snowfall. Frost Smitten rounds out the collection with a fiery rose gold glitter, for anyone that would otherwise miss the dose of warm and fuzzies.
Inspired by ORLY's cool change of pace? Shop all six winter-ready shades, below.