Essie Just Dropped Its Winter Collection & Your Nails Are About To Get A Very Festive Makeover
Essie/Instagram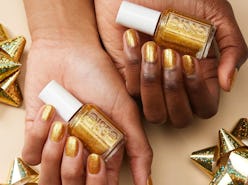 Any self-respecting holiday season enthusiast knows one thing for certain: Your manicure is very important part of maintaining a merry mood. And as luck would have it, essie's Winter 2019 collection is here with six super-festive polishes that will give your nails a holly jolly look — so if sparkly digits in bright, seasonally-appropriate shades are your thing you'll want to scoop this limited-edition launch up, and fast. Pro tip: They'd make for pretty stocking stuffers, too.
If you thought essie's jewel-toned velvet matte Game Theory collection from earlier this fall was bold, get ready to be dazzled. That's because the crowd-favorite nail brand just dropped its winter collection, and it's fittingly festive with no shortage of high-sparkle shades. All six of the limited-edition launches are infused with reflective glitter pearls for glitz from every angle, so overflowing stockings and presents under the tree won't be the only enticing sight at the holiday parties on your packed social schedule.
Available now on Kohl's website for $9 each or in a gifting-ready four-piece mini polish set, $12.99, the freshly landed collection is probably the most straightforward holiday nail drop yet thanks to its timeless hues.
For starters, essie introduces holiday-appropriate metallics in shades of silver and gold, dressed up for the occasion with multidimensional glitter. Making Spirits Bright is a cool-toned silver with multi-colored sparkle, while Caught On Tape is a warm gold with unexpected red shifts. For nails that shimmer like freshly fallen snow, opt for cool winter white Let It Bow.
Bring on the jubilant jewel tones with bright red Knotty Or Nice, which shows off a cool blue glitter, deep forest green Under Wraps, and ultramarine Tied And Blue. Because of their eye-catching sparkle that comes from within (as opposed to a glittery top coat), the shimmery effect is similar to that of multifaceted gemstones. How's that for holiday glamour?
If essie's new winter drop already has you feeling the holiday spirit — and face it, it's hard not to with these shades — go ahead and shop all six below. Seriously festive nails are in your future.