ORLY's Top-Selling Nail Colors Include One Of Fashion's Favorite Trends
Dvora/Shutterstock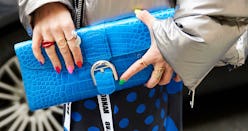 Deciding on which nail polish color to go with is always fun. But sometimes, even seasoned pros can use a little help picking which shade to use next. To make it at least slightly easier to choose this year, ORLY shared which of its 10 nail colors have quickly become the top-sellers of 2019 — so far — with The Zoe Report. And unsurprisingly, ORLY's best-selling nail polish shades include more than one of the colors currently trending in fashion.
"The biggest trend we're seeing so far this year is neon nails, especially nude manicures with pops of neon," ORLY's digital manager Morgan Murayama tells The Zoe Report over email. "Glowstick is always one of our top-selling shades and our new blue shades — Glass Half Full and It's Brittney, Beach — have seen enormous popularity."
And Glowstick is actually the top-shelling nail polish shade for the brand in 2019; though that may not come as any surprise. Retailing at $9.50, the shockingly bright fluorescent yellow is in-line with the neon color trend — which is still popping up everywhere in fashion this year. Besides its trendiness, the ORLY shade offers a true highlighter hue that's hard to find in the nail color world, so naturally it's picked up quite a few fans.
Murayama also confirmed that you aren't the only one watching the rainbow nail trend dominate your Instagram feed. "We're also seeing a lot of multi-colored manicures and unexpected color mixing," Murayama adds. So, if you really can't decide between two shades — or three, or four — next time you're at the salon, why not go with every single one?
If you're short on time, you could just top your mani with a coat of ORLY's Turn It Up. Behind Glowstick, the rainbow glitter coat is ORLY's second best-seller — though like the neon yellow neon, the $9.50 nail polish is unique. Instead of focusing on a high-impact sparkle (like most glitter top coats), Turn It Up puts color first, mixing chunky rainbow glitter with tiny matte white flecks. Basically it's like a party on your nails.
Whereas both of those shades have had years to accumulate their cult following, some new colors — like one from ORLY's Summer 2019 collection — have quickly landed spots on the best-seller list. So, keep scrolling to see which colors ORLY fans are loving; all 10 of ORLY's best-selling nail colors of 2019 are ahead.