This New Summer Nail Polish Collection Features A Shade That Changes With Heat
ImaxTree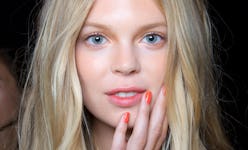 Even though these days it's completely acceptable to disregard seasonal nail trends in favor of whatever shade you're feeling at the moment, it's still somewhat commonplace to see cooler, more muted colors in the winter while blazing hot hues rule the summer. But if you simply can't settle for specific color palettes each season (which is totally OK, by the way), ORLY's Summer 2019 Euphoria collection gives you the best of both worlds. Whether you're ready to heat things up or happy to settle into a more subdued shade, you'll find it all in this new launch.
Los Angeles born-and-raised nail brand ORLY is always on the pulse of what's popular when it comes to polish trends — even if the trend is to throw all the old rules out the window. It's no surprise, then, that for the brand's Summer 2019 collection it would release a range that doesn't stick to the color conventions of seasons past.
The forthcoming launch, which will hit ORLY's website and beauty stores like Ulta in May 2019 at $9.50 per bottle, manages to encompass every color you could ever want this season, from icy blue hues to bright red-hot shades, so you can find the one that's exactly right for you at any given moment.
And one particular polish in the Euphoria collection really goes the extra mile to give you everything, by actually shifting colors under certain conditions. The peachy-coral confetti shade Warm It Up is a thermochromic color that shifts from its original color to bright white whenever you're exposed to warmth — so you'll know when things are heating up thanks to your manicure.
Try layering the chameleon-like color over one of the other warm, bright polishes like the red-hot Muy Caliente hue, or put it on alternating nails with the collection's other confetti color, What's The Big Teal. Since the transformative polish changes from peach to white, it'll always coordinate with whatever shade you decide to rock with it. You really can't go wrong.
But if you love a bold blue nail, opt for the deep ocean-blue shade, It's Brittney, Beach, or the tranquil pastel teal shade, On Your Wavelength. Pro tip for the brides out there: The muted hue could easily be your "something blue" on your special day; try it on your toes for just a subtle touch, and paint your fingernails with the pretty pink Rosé All Day shade to complete the look.
If there's anything you take away from this season's newest nail polish launches, it's that anything goes. Don't be afraid to get creative and opt for something that stands out from the pack — extra points if your pick spectacularly shifts colors throughout the day. Keep an eye out for ORLY's latest launch in May so you can snag it for yourself.