Not Going Home For The Holidays? These Activities Will Keep You In A Festive Mood
Alena Ozerova/Shutterstock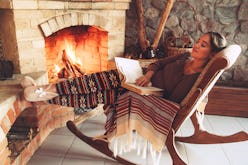 Maybe your work schedule just won't allow it, maybe your budget is especially tight this year, or maybe you simply don't have a close relationship with your family. Whatever the reason, if you're not going home for the holidays, it doesn't have to mean missing out on a traditionally festive or nostalgic good time.
If you are someone who's used to heading to your hometown to celebrate the season, it can be a bit of a bummer to be without your usual traditions, including certain dishes at dinner, exchanging gifts, or binge-watching classic movies (while fielding the inevitable awkward questions or dealing with family drama). But you can use this time to make new memories or incorporate some of your favorite activities even if you're solo.
There are a ton of ways to get into the holiday spirit whether or not you're heading out of town, from giving back to the community to hosting your fellow in-town friends for dinner. After all, a major component of seasonal celebrations is showing gratitude and appreciation, and there's more than one way to do that. So, if you find yourself on your own this year, consider the six options ahead to have a merry, bright, and totally memorable holiday no matter where you are.
Host A Dinner With Fellow In-Town Friends
It's likely that you have a friend or two who's in the same position you are. Why not plan your own holiday dinner, complete with festive cocktails and seasonal dishes that will get you all into the spirit?
Check Out Holiday Light Displays
Most cities have some sort of lighting display, whether it be in a public space (like a park or the zoo) or a residential area that's known for its over-the-top decorations. Pack a thermos of hot cocoa and soak in all the nostalgia.
Organize A White Elephant Exchange
For many, giving (and, of course, getting) gifts is one of the best parts of the holidays, and just because you're not going to be with family doesn't mean you can't carry on this tradition. Organize a white elephant exchange with friends or coworkers who are also in town so no one feels empty handed.
Binge Your Favorite Holiday Movies
If you have time off work, it's also a great time to do absolutely nothing. Get under the covers and turn on your favorite holiday movies. You'll get all the warm and fuzzy feels without having to fight for the remote.
Volunteer
There are so many ways to give back during the holidays: Feeding the homeless, adopting a family, gathering and donating food, clothing, and blankets, or helping out at a local animal shelter, just to name a few.
Have An Out-Of-Town Adventure
Check out cozy rentals that are a short road trip away. Someplace snowy, quiet, and totally relaxing (plus a fireplace helps) might be a great way to unplug and practice some serious self care. Write in your, read a book, or set intentions for the new year. Take advantage of the quiet time and inspiration of a different setting.