Lush's New Halloween Collection Brought Back This Cult-Favorite Bath Bomb
Lush/Instagram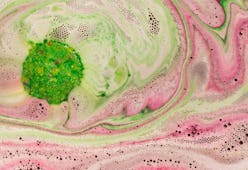 Leave it to a brand like Lush to create a seriously covetable Halloween collection. Unveiling in stores Sept. 27 — but already debuted online — Lush's 2019 Halloween collection is just as cheeky as past holiday lineups: think ghost-shaped bars of soap and pitch-black "Shower Slime." And while the products may be more fun (and thematically spooky) than your run-of-the-mill beauty buys, the ingredients and, in this case, cult-favorite fragrances are just as impressive.
Because yes, Lush fans, Lord of Misrule season has officially begun. The fan-favorite fragrance has returned via the new Halloween collection in the form of a bath bomb retailing for just $7.95 a pop. Fans of the scent will undoubtedly consider that a small price to pay: Similar to the brand's earthy scent Karma, the limited-edition fragrance is described as a "spicy herbal blend of patchouli and black pepper oil" in the product description.
And since it's a bath bomb, you get the added bonus of watching it transform your tub into a bubbly, technicolor wonderland. The Lord of Misrule bath bomb is pistachio green on the outside, red wine on the inside — fitting for a Halloween release that's as chic as it is on theme.
Fans will also be happy to know that the new collection ushers in two never-before-seen bath bombs as well: the $6.45 cinnamon-spiced Punkin Pumpkin and $7.95 lemon-and-ginger Mercury Retrograde. The pumpkin-spice bath bomb is — surprise, surprise — shaped like a jack-o'-lantern, while the astrological addition is a Halloween-inspired mix of orange, green, and purple.
Your Halloween experience isn't limited to just your tub, too. Though not officially available online yet, Lush's collection will be rolling out a new Pumpkin Spice lip sugar scrub to help get you in the autumn mood. The $10.95 lip exfoliator is made from organic pumpkin seed butter, jojoba oil, and shea butter, with a pumpkin spice-scented blend of flavors and essential oil.
To shop all of Lush's new Halloween arrivals, click over to the brand's website or find your local brick-and-mortar location starting Sept. 27. Ahead, eight new pieces from Lush's Halloween 2019 collection that'll get you ready for colder weather, costume parties, and as many pumpkin spice lattes as you can handle.