6 Pop Culture Halloween Costumes That Won't Compromise Your Personal Style
Paramount Pictures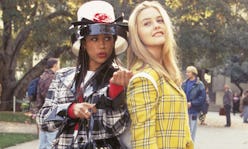 The beginning of the fall season calls for sweater shopping, movie binging, and brainstorming ideas for the perfect Halloween costume. Whether you plan on going all out or opting for something a bit more subtle, you shouldn't have to sacrifice your personal style when it comes to choosing a Halloween look. Thankfully, The Zoe Report has carefully curated the best movie and tv character Halloween costumes that will make dressing up a breeze (no matter your plans). Ahead, six pop culture-inspired costumes you'll actually want to wear this Halloween.
Dionne From Clueless
It's likely you have a friend (or two) who's already dressed up as Cher Horowitz in recent years. Rather than wearing the iconic (but, frankly, overdone) yellow-plaid suit, go as Cher's equally fashion-forward best friend, Dionne, instead. The character has plenty of outfits worth copying throughout the film, but the easiest to emulate is her black-and-white two-piece set paired with a red cardigan, black shoes, and knee-high socks.
You probably won't have a lot of luck finding Dionne's very-'90s top hat, but feel free to make the look your own by adjusting the ensemble to your personal aesthetic. Finish off the look with red lipstick and you're good to.
Shop The Look
Billie Jean King From Battle Of The Sexes
Billie Jean King's rise to fame as an athlete and all around hero in the feminist movement was recently depicted by Emma Stone in Battle of The Sexes. This Halloween look is just as comfortable as it is easy to achieve. If you play tennis, you may even have some of the most important components of the outfit already hanging in your closet — just add some round glasses and a '70s hairstyle to complete the look.
Shop The Look
Margot Tenenbaum From The Royal Tenenbaums
Gwyneth Paltrow is no stranger to trend setting. In fact, her character in Wes Anderson's early 2000s film The Royal Tenenbaums possessed a unique style that's practically made to be a Halloween costume. All you'll need is a striped, collared dress, a fur coat, and an on-trend red hair clip.
Shop The Look
Villanelle From Killing Eve
Villanelle from BBC's Killing Eve is arguably one of the most glamorous assassins to grace the small screen. To mirror her epic pink look, pair a tulle dress with chunky boots, and pull your hair back into a slick bun.
Shop The Look
Diane Keaton as Annie Hall
Diane Keaton's quirky style in the cult-classic film Annie Hall makes for a clever and extremely simple Halloween costume. Wear a white button-up, wide-leg khakis, a sweater vest, and of course, a tie.
Shop The Look
Olivia Pope From Scandal
Consider your Halloween costume officially handled, Olivia Pope style. The famous Washington D.C. big shot is known for her polished ensembles, but don't forget your glass of red wine and bowl of popcorn.
Shop The Look