Moon Juice's New Moisturizing Cream Is One Of 2 Adaptogen-Infused Additions To Its Growing Skincare Regimen
Moon Juice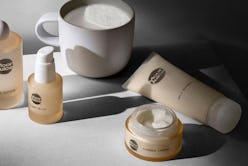 When you're grappling with dry skin, it can be a very short trip from mild displeasure to full-on despair — especially if it seems like you've tried everything under the sun to rid your face of irritation and redness. Sound like a familiar situation? Before you end up in total freak out territory, give the superfoods in Moon Juice's new Cosmic Cream a try. They're the supercharged yet natural way to soothe dry skin, once and for all.
With a celestially-inspired name like Moon Juice and products that include supplements that tout stress-reducing, sex life-boosting, dream-enhancing benefits (to name just a few), it'd be easy to write the Los Angeles-based brand off as a bit woo-woo. Except for the fact that it's been around since 2011 and has earned a very loyal fan base and no shortage of glowing reviews — plus a founder dedicated to finding naturally-sourced, scientifically-backed lifestyle solutions.
Former chef and Moon Juice founder Amanda Chantal Bacon's plant-based wonders have more recently expanded into topical skin care, adding to its already-popular array of ingestible beauty supplements that promise longer, stronger hair and glowing, de-stressed skin. Just like the powders and capsules, the brand's natural skin care includes superfoods and adaptogens to supercharge your routine — and the line just got two exciting new additions.
Superfood-infused Cosmic Cream and Milk Cleanse, now available at Moon Juice's site and boutiques as well as Sephora, have landed just in time to care for your complexion during one of the most trying times of year: deep winter.
Cosmic Cream, $58, is a rich, comforting moisturizer that's formulated to improve elasticity and firmness and preserve your skin's precious collagen levels. The luxurious cream does it via adaptogenic Ashwagandha and Schisandra, plus a powerful duo of Silver Ear Mushroom and hyaluronic acid that promise to plump skin to hydrate and minimize fine lines. High-grade essential oils give the cream a woodsy, rosy aroma (which, knowing Moon Juice, was chosen to bring about a sense of relaxation).
The moisturizer's joined by Milk Cleanse, $32, a gentle cleanser with a fluid, creamy texture that wipes away impurities and makeup without stripping skin. It relies on the same mushroom extract plus vitamin E to hydrate skin as it's purified, plus reishi and coconut ferment for natural bubbles (it's free of sulfates and other chemical surfactants traditionally found in face washes). The same wood rose scent gives the cleanser a grounded vibe.
Could your skincare routine use a superfood supercharge? Shop Moon Juice's fresh new launches, below.