These Are The Beauty Supplements An Editor *Really* Takes
Kalumi Beauty Food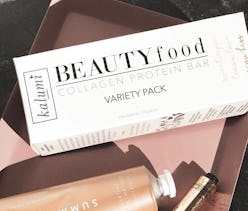 No less than five press releases for brand new beauty supplements make their way into my inbox on the daily — and the seemingly endless supply of smoothie stir-ins, "pretty pills," and beauty beverages shows no signs of stopping. Not that I'm complaining. I personally love a good skincare supplement, in part because my skin is really sensitive. A new topical product is bound to irritate it, but skincare from within? That's usually a safe bet.
"As consumers are focusing more on a holistic approach to skincare, ingestibles are becoming increasingly popular," Dr. Joshua Zeichner, a dermatologist with Zeichner Dermatology in New York City, says. He's not quite as willing to endorse this new category as I am ("There is little data to prove how effective many of these supplements truly are," the derm says), but even he has to admit that "supplements can help provide the body with the necessary building blocks for healthy functioning." Which is a fancy way to say this: Healthy skin starts with a healthy body. That's probably why the handful of beauty supplements that have actually stuck around in my routine are about so much more than clear skin. They support my gut, soothe my stress, and help me sleep, too.
Want to know what beauty supplements a beauty editor really uses? Ahead, the 10 pills, powders, and tinctures that have earned my stamp of approval. As Dr. Zeichner says, "There likely is little downside to taking them... except for the cost to your pocketbook."
Rootine Daily Vitamins
"When speaking about 'ingestibles,' my answer is always focused on maintaining a proper diet," Dr. Devika Icecreamwala, a dermatologist with Icecreamwala Dermatology, tells TZR. The only supplement she recommends? A regular multivitamin. My personal favorite at the moment is from Rootine, a new company that custom-creates daily vitamins for you based on a DNA test. Two weeks after sending off my sample (which I collected via a kit from Rootine), I had the results: I need more antioxidants, less Omega-3s, and more vitamin B12 than the general population. Rootine then took that information and delivered a daily multivitamin full of everything I need — and nothing I don't — in a handy packet of "bioavailable microbeads." (So, there's no giant "horse pill" to swallow, as the brand likes to say.) Bonus: Each packet has my name on it — and I'm a sucker for a personal touch.
Stamba Replenish Probiotic
If there's one supplement I swear by for a clearer complexion, it's a probiotic. More and more, research is showing that a healthy gut leads to healthy skin, which comes down to something called the "Gut-Brain-Skin Axis." In utero, the gut, brain, and skin all develop from the same tissue — and are linked for life. I've been boosting the healthy bacteria in my gut via a daily probiotic for two years now (Stamba's liquid version is my current fave), but it only took a couple of weeks to see a noticeable difference in my skin.
Cosaki The Matcha Multiple
Collagen supplements are everywhere right now, so obviously the category makes an appearance (or two) in my kitchen cabinet. I'm currently testing Cosaki's The Matcha Multiple, a blend of marine-derived collagen (which derms say is the most bioavailable version), prebiotics (which feed good bacteria in the gut), and matcha tea (which is full of antioxidants to steel the body against environmental stressors). It's delicious, and after three weeks of daily lattes, I do think it makes my skin look that much glowier.
Kalumi Beauty Food
I'm hooked on these Kalumi Beauty Bars because they serve multiple purposes: For one, they're packed with skin-plumping marine collagen. And two, they're loaded with enough nutrients and protein to work as a breakfast bar. I'm all about that grab-and-go-and-glow life.
When I first started incorporating Kalumi into my diet, I conducted a little experiment: I had one every morning for two weeks straight and tracked the results. I know "strong" is kind of a strange word to use in this capacity, but I swear that's how my face looked and felt — a little firmer, a little plumper, a little stronger.
Elements Calm
Just try to convince me that stress doesn't affect the skin, and… well, you can't. For me, the two are inextricably intertwined — the second my stress levels shoot up, so do my acne levels. To help keep things balanced on all fronts, I add three droppers of Elements Calm supplement into water once a day. The supplement just launched (so stay tuned for long-term results!), and is made with "clinically-effective levels of the adaptogen holy basil" and stress-relieving lavender to calm my nerves — and theoretically, my complexion.
Moon Juice SuperHair
Experts say stress can even mess with hair growth. "When your body is under stress, or you don't have enough nutrients, it will [interrupt] the hair growth cycle," Dr. Dominic Burg, a biologist and trichologist, tells The Zoe Report. To keep my strands growing strong, I take Moon Juice's new SuperHair supplement — full of bioavailable biotin, horsetail, and adaptogens — to tackle stress and support hair growth. I can't say for sure that it works yet, since it takes about three months to see results. But I'm hopeful, and so is my hair.
Four Sigmatic Mushroom Face Mask & Tonic
My favorite supplement? Without a doubt, Four Sigmatic Mushroom Face Mask & Tonic. No offense to my other supplements, of course, but this one works both internally and externally to detox the skin. When the powder is stirred into a hot drink, it purifies from within (thanks to cacao and chaga mushrooms). When mixed with a tiny bit of water and applied as a mask, it gives pores a deep clean (care of activated charcoal and gotu kola) in 20 minutes flat. It's a win-win.
Agent Nateur Holi(Youth) Oceanic Adaptogen
One of the newer additions to my routine is Agent Nateur's Holi(Youth) Oceanic Adaptogen. The powder features ground pearl, spirulina, marine collagen, and holy basil to help the body eliminate toxins more easily, as well as safeguard against the effects of stress and pollution. And since it was created in collaboration with functional medicine practitioner Dr. Will Cole, I trust that the ingredients inside are top-notch.
Zizia Hibiscus Prickly Pear Cool Down Powder
I have dry skin… I mean, I used to, back before I started stirring this herbal powder into my water daily. It's designed to hydrate from the inside out with marshmallow root, prickly pear, and hibiscus (among other herbs and flowers), and it really works. All thanks goes to holistic aesthetician Aubrey Williams, who suggested I add this to my skincare routine about two weeks ago — and honestly, I saw a difference in my skin's moisture levels in just a few days. Now, I'm passing the suggestion onto you.
Moon Juice Night Beauty
As anyone who's seen me shamelessly rocking my Moon Juice sweatshirt knows, I love everything Moon Juice does. The best of the brand, in my opinion, is Night Beauty: an adaptogenic supplement that combines beautifying ingredients (antioxidant-rich alma berry, glow-giving pearl) with sleep-inducing ingredients (Egyptian chamomile) to help you drift off into beauty sleep. It's the final step in my nighttime skincare routine.