Milk Makeup's New Lip Glaze Is A Gloss That's Actually Winter-Friendly
Milk Makeup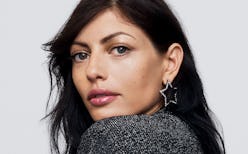 During the winter months, it seems like your stockpile of pout-protecting products depletes faster than any other time of the year. Due to the particularly drying conditions, you'll often find yourself applying and reapplying all day long, until suddenly you've gone through yet another gloss or balm. Tired of trying (and ultimately failing) to keep your lips from losing vital moisture? You'll want to snag a tube of the brand new Milk Makeup Kush Lip Glaze, because it might just be the hydrating hero you've been needing all along.
As a brand that's committed to creating 100-percent vegan, as-natural-as-possible products, Milk Makeup is consistently coming up with ways to harness the power of Mother Nature for the greater good of your skin. The latest release from the beauty brand came at the perfect time, too, when it dropped two new lip products on Dec. 11 that promise to keep your pout happy — naturally.
Milk Makeup's new Kush Lip Glaze and Kush Lip Balm, now available on the brand's site and launching at Sephora on Dec. 26, are enriched with a deeply hydrating ingredient that may surprise you: Hemp-derived cannabis oil.
The ingredient has received major praise lately for its powers in soothing stressed-out skin (basically, everyone's skin come winter), so it makes sense that the brand would reach for it when formulating a lip gloss that promises to be as nourishing as it is shiny. Milk Makeup is far from alone, however, in reaping the benefits of the natural hero — many other beauty lines are turning to various compounds offered by cannabis plants for their own products, like CBD-infused shampoo that promises your strongest hair ever, or Herbivore Botanical's new moisturizing face oil.
Milk Makeup didn't stop at just the uber-helpful hemp derivative, though. The brand added to the lip gloss other natural miracle workers, like shea, mango, and cocoa butter, and antioxidant-packed jojoba and olive oils. The result? An actually effective lip treatment that won't just protect lips like a traditional wax-based balm or petrolatum product, it'll heal them.
Not to mention, the brand new gloss, $18, will keep lips looking shiny for hours while it goes to work softening your pout. The formula — which comes out green, but goes on clear — slicks onto lips to form a long-lasting, high-shine barrier that prevents damage from cold, dry wind and other environmental stressors. Basically, you can consider it the most beneficial way to rock the glossy lip trend this season.
The brand even recommends using the lip glaze as an overnight treatment when you could use some extra TLC — by letting the glossy formula soak gradually into lips as you sleep, you're practically guaranteed to wake up with a super-soft pout in the morning. Then, just stash the lip balm, $16, in your bag to swipe on mid-day when your lips need an extra dose of moisture.
With winter weather really starting to take its toll, there's no time to waste when it comes to stocking up on skin-protecting products. Shop Milk Makeup's latest launch below — it's sure to become a lip lifesaver you'll rely on in the coming months.