Milk Makeup's Wu-Tang Collab Has The Perfect Bright Red Lipstick For The Holidays
Milk Makeup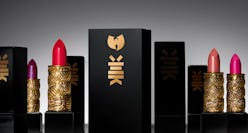 While you may have a few, several, or even dozens of lipsticks in your beauty arsenal, have you ever felt like none of them get you? Does it seem like, regardless of the color payoff or the luxe formulas, your collection of lipsticks has never really spoken to who you are on a deeper level? Does that feel like a ridiculous beauty goal? Turns out, it's not an impossible ask, because the Wu-Tang x Milk Makeup collab has set out to do just that.
The Wu-Tang x Milk Makeup collaboration launched Nov. 1 with the release of eight new lipsticks that seek to provide you with the ultimate tools of self-expression – and armor to shield you from the modern world.
Before you start thinking this all sounds a little out of left field, the partnership actually makes total sense. Aside from the fact that Milk Makeup and Wu-Tang both have roots in New York City's vibrant culture – Wu Tang even performed at Milk Gallery in 2012 to kick off New York Fashion Week – the two parties also find passion and fulfillment in pushing the envelope and putting out inventive concepts and products.
"Milk Makeup has been bold in creating beauty products with unique ingredients. This collab dives deeper into that realm and I'm sure will inspire the Wisdom Beauty and Strength of today's Modern Warriors," RZA of Wu-Tang said in the collaboration press release.
For the lipstick line's big release, Milk Makeup and Wu-Tang teamed up with singer, actress, and model Teyana Taylor (also a native New Yorker hailing from Harlem) to film an empowering video, which puts the power of the lipsticks on full display. The idea? That you can find a lipstick shade that's unapologetically you, to help guide you through your day from the moment you swipe it on.
How do you know which shade is right for you? Milk Makeup and Wu-Tang say it's all about the intention you want to set for the day and the identity you want to channel. That said, all eight limited-edition colors are bold, richly pigmented, and super wearable, so choosing just one of the $55 lipsticks could prove to be a difficult task.
An easy place to start would be with Fire, a vibrant matte red lipstick. The long-lasting pigment in an eye-catching shade of red is ideal for any day, but seems especially appropriate with the upcoming holiday season. Swipe on the poppy red lip with a chic LBD for a cocktail party, or go for even more impact by pairing the lip with a metallic number. It's guaranteed you'll make a fiery statement.
Other standout shades include Cypher, a rich cocoa color with a satiny finish, and Sacred, a glittery metallic rose gold that's sure to be a show stopper. All eight shades are based off the same vegan formula, which is enriched with sacred lotus water, cherry blossom, hemp extract, and more to provide antioxidant protection and all-day hydration. Each lipstick is encased in a custom for the collab tube that shows off a golden dragon design on the barrel upon opening.
If you can't bear to choose just one color, the collaboration also features a collectable box set of every shade so you can channel any of the eight vibes each day. Shop the unique, bold shades below, available now on Milk Makeup's website.