Should You Really Be Using An Acne Pen? A Derm Explains
Courtesy of Glossier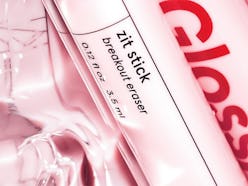 Packaging can make or break a skincare product. Besides the obvious importance of aesthetic allure (#shelfie, anyone?), functionality is key — which is why the industry is seeing an influx of smartly-packaged, user-friendly products; like toning mists (no cotton pads necessary), serums with pumps (one less step than droppers), and sheet masks (bye, messy mask application). Spot treatments rendered in stick form to precisely target pimples are also on the rise, including versions that rely on traditional acne-fighting ingredients and those that utilize LED lights to kill bacteria... but do acne pens really work?
"These 'pens' or sticks work like other spot treatments, in that they contain an acne-fighting ingredient that promises to work rapidly to treat an acne bump," Dr. Sejal Shah of SmarterSkin Dermatology tells The Zoe Report. "What's unique about them is the packaging — how the medication is applied to the skin." As compared to typical spot treatment creams and gels, blemish sticks allow the user to treat breakouts with precision; a function that has its advantages and disadvantages.
"This new delivery system is more sophisticated than the usual method of 'rubbing cream on a spot,'" Dr. Neil Sadick of Sadick Dermatology tells TZR. "Creamy spot treatments can overdose not only the acne lesion, but also the neighboring skin, which can lead to additional outbreaks, redness, and inflammation." By giving users a way to aim the correct dosage of stronger ingredients directly at a blemish — instead of sloppily dotting it on or accidentally using too much product — acne pens mitigate the risk of irritation to the skin around the pimple.
It also may be the more sanitary approach, since applying a spot treatment with your fingers could lead to the spread of acne-causing bacteria. "A zit stick ensures application in a hygienic, mess-free way," Dr. Sadick says.
If mess-free is what you're looking for, though, you may want to skip product-based blemish sticks altogether and opt for Neutrogena's new Light Therapy Acne Spot Treatment; which utilizes red and blue LED lights to kill bacteria and calm inflammation. "I'm a big fan of LED light devices and they are safe to be modified for at-home use," Dr. Sadick tells us. "Blue and red LED light has been shown to be effective in killing bacteria and reducing inflammation, respectively." He maintains this device is efficacious for treating acne and excess redness, so long as you limit your exposure time. Neutrogena's acne pen should only be targeted at a single pimple for two minutes a day — but you can use the device daily with no adverse effects, Dr. Sadick says.
Zit sticks do have a downside, though. Product-based blemish pens often contain high concentrations of acne-fighting ingredients. While this can mean big rewards — Glossier's Zit Stick claims to shrink pimples in just three hours — it can also mean big risks. "With any spot treatment, there's risk of excess dryness," Dr. Shah tells us. "These adverse effects may be more common with these treatments because people tend to overuse them by applying too frequently."
To avoid irritating a breakout any further, use acne pens as directed (most should only be applied once or twice a day) and look for dermatologist-recommended ingredients. These include benzoyl peroxide, salicylic acid, tea tree oil, sulfur, and kaolin clay. "Benzoyl peroxide fights the acne-causing bacteria and skin inflammation, tea tree oil has anti-bacterial and anti-inflammatory properties, and salicylic acid gently exfoliates the skin," Dr. Sadick says; while Dr. Shah adds that sulfur and kaolin absorb excess oil. Natural ingredients like turmeric (which has been used for centuries to reduce inflammation) and willow bark (a natural source of salicylic acid) may be a better fit for sensitive skin — but all skin types should avoid alcohol-heavy formulations, since alcohol has the potential to trigger a fresh breakout.
As for who should use acne pens? "These are best for folks who get only an occasional pimple — one every month or every few months," Dr. Adarsh Vijay Mudgil, the medical director of Mudgil Dermatology, tells The Zoe Report — and that goes for both product-based pens and LED light therapy pens. "For patients with more widespread chronic acne, a proper prescription based regimen curated by a board certified dermatologist is the best bet."
Ahead, discover the derm-approved acne pens to try the next time a stray pimple pops up.
Shop Acne Pens