This Is Exactly When You Can Start Shopping Milk Makeup's Brand-New Primer
Courtesy of Milk Makeup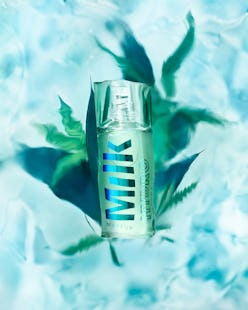 "Take your skin on a trip" reads bold text from the Milk Makeup Hydro Grip Primer's product description. And Milk Makeup isn't talking about a Parisian getaway. Launching March 8, the new primer is formulated with hemp-derived cannabis seed extract — and you'll love what this newfound skincare hero can do for your makeup routine.
A bottle of the Hydro Grip Primer will retail for $30, and it's a bargain for how multi-functional the formula promises to be. Naturally, it's a primer first: Layer one or two pumps of the formula on before your makeup, then wait one minute for the "full grip effect" to kick in. Milk Makeup credits the longevity of the primer to blue agave extract, which smoothly layers over any uneven skin texture, locking in moisture on the inside and your makeup on the outside.
But about that cannabis seed extract. You don't have to be a beauty fanatic to know that CBD (also known as cannabidiol) and other cannabis-derived extracts are having a moment in the industry. The ingredients are popping up everywhere from face oils to haircare, with cult-favorite skincare products getting deep green makeovers — and Milk Makeup's KUSH makeup products have been helping to steer the way since day one.
In fact, the ingredient is so popular nowadays you may think it's a gimmick. Fortunately, that's not the case when it comes to the Hydro Grip Primer; it makes perfect sense to have the cannabis seed extract in a primer. The ingredient is rich in antioxidants, which help to protect your skin against environmental stressors like pollution and free radicals. It also aids your skin the second you put it on — the extract hydrates skin and reduces inflammation.
Milk Makeup complemented the cannabis seed extract's hydrating nature with aloe water, hyaluronic acid, and prickly pear cactus extract (or "Opuntia ficus-indica flower extract", as it's called in the primer's ingredients list). So, while you can wear the primer under your makeup, Milk Makeup also notes that you can use the product to finish your look: One layer of Hydro Grip Primer will make your face look glassy, glowing, and fresh. (P.S. The green-tinted formula goes onto skin clear.)
Milk Makeup has started a countdown to the Hydro Grip Primer's release online, and opened up an email notification list on its website. Scroll down to the link below to sign up if you can't wait to get your hands on this multi-use, hydrating primer.