Peter Thomas Roth's New Face Oil Is The Calming Skin-Saver You've Been Waiting For
Peter Thomas Roth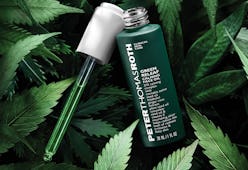 Every year seems to have a superstar ingredient that beauty obsessives can't get enough of (remember last year's collagen craze?). And in case you haven't noticed, 2019 currently seems poised to be the season that cannabis takes the beauty industry by storm. Many of your go-to brands have unabashedly embraced the botanical element, casting off its formerly controversial image in favor of its innumerable benefits. The latest product to herald the herb's highly effective powers is Peter Thomas Roth's Green Releaf Calming Face Oil, and if your skin has been feeling extra-sensitive lately, it just might be the solution you've been looking for.
While believers in natural remedies have stood behind the healing powers of the cannabis plant for quite a while, it's only recently that the botanical ingredient has built its way up into the mainstream. Now, new beauty products seem to drop almost daily with a cannabinoid compound — mainly non-psychoactive hemp-derived sativa seed oil, which has quickly become beloved for its calming and nourishing capabilities.
It's that same ingredient that stars as the hero in Peter Thomas Roth's latest launch, a duo of sativa seed oil-packed products that recently landed at Sephora. The brand, which prides itself in producing powerful skin care that's backed by clinical proof, debuted its Green Releaf Calming Face Oil and Green Releaf Therapeutic Sleep Cream, just in time to catch the green wave that's currently showing no signs of slowing down.
And if you've been struggling to keep your sensitive skin satisfied — considering it's currently winter, it's fair to assume everyone's skin is struggling — the brand's new face oil is a super smart buy.
Peter Thomas Roth's Green Releaf Calming Face Oil, $68, is a bottled solution to your stressed out skin, thanks to a soothing blend of sativa seed oil, avocado oil, vitamin E, and numerous other natural extracts. Apply a few drops to your face morning and night (alone or as a booster after the rest of your skincare routine) and expect to see a dramatic decrease in redness and irritation so skin is left looking more hydrated, radiant, and smooth with each use.
And if you can't get enough of the herbal helper, grab the brand's accompanying Green Releaf Therapeutic Sleep Cream. The $65 moisturizer is packed with the same skin-soothing blend of sativa seed oil and other botanical ingredients, and receives an anti-aging boost from Peter Thomas Roth's gentle retinoid complex. Thanks to the wrinkle-reducing power of retinol, paired with sativa oil's nourishing properties, continued use of this night cream should mean waking up to brighter, plumper, more youthful looking skin.
If the slew of other hemp-infused beauty products hitting shelves this year hadn't convinced you, Peter Thomas Roth's latest launch serves as mounting proof that the trend is here to stay. Shop the beauty brand's two new launches below to try the herbal skin-healer for yourself.