Herbivore's Cult-Favorite Emerald Oil Is Getting A Very Trendy Update
Courtesy of Herbivore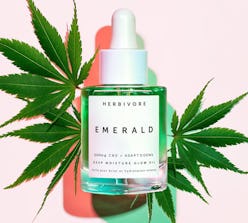 It has officially became near-impossible to browse a beauty store without stumbling on something that touts the superpowers of CBD. And if you ever struggle with skin that's irritated, red, and overall stressed-out, the star-like rise of cannabinoid-derived skincare is a very good thing. Now, one hemp-inclusive skin hydrator is getting an even bigger boost via CBD, to take its skin-soothing powers to the next level. Herbivore Emerald Deep Moisture Glow Oil now comes in a CBD version, and it could be exactly what your skin care shelf is missing.
If you've tried and loved Herbivore's naturally hydrating, hemp-derived Emerald Deep Moisture Glow Oil get ready, because it's got a brand-new souped-up sister in town. The brand is officially debuting an updated formulation of the luxe, hydrating facial oil that includes 100mg of high-grade, full-spectrum CBD to take its skin-calming abilities to a whole new level. Fans of the original formula need not worry because it won't be going anywhere — but if you've been looking for an extra dose of relief from whatever has your skin stressed, this trendy $58 product is the one to try next.
Wondering what the deal is with the beauty world's sudden CBD obsession in the first place? Herbivore's hoping that its latest launch will help clearly answer all your cannabis-related questions — and show you just how healing CBD can be. To strip it all down: CBD helps to initiate your body's natural anti-inflammatory processes, which is why it's proving to be so powerful when it comes to soothing angry, out-of-balance skin. (And also why you should probably add the ingredient to your next massage.)
On top of that, CBD happens to pack a potent dose of another popular skincare ingredient: antioxidants. The non-psychoactive (aka, won't make you "high") cannabis derivative is chock full of vitamins A, D, and E, plus essential fatty acids, that help reinforce and protect your skin's essential moisture barriers. Those elements further contribute to a reduction of irritation, and work to prevent further environmental damage by deeply hydrating your complexion. Basically, it checks all the boxes.
The new launch is available for pre-order on Herbivore's site as of Feb. 15 — in a separate section that verifies your age before viewing — and will land at Sephora.com soon. And because the brand's founders feel strongly about supporting education on the benefits of cannabis, a dollar of each purchase goes towards women-owned organizations in the industry (women supporting women is always a plus) and nationwide legalization efforts.
Discover the new CBD-supercharged product below, and head to Herbivore's site to snag a bottle for yourself.
Readers should note that the regulations and data surrounding CBD are still developing. As such, the information contained in this post should not be construed as medical or legal advice. Always consult with your doctor before trying any substance or supplement.