The Subtle Way Meghan Markle Broke Royal Protocol Last Night
Christopher Furlong/Getty Images Entertainment/Getty Images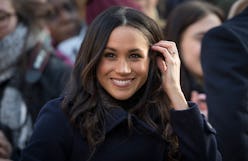 You would sooner see Kate Middleton in a tutu than anything that would break the royal dress code. Her new sister-in-law, however, isn't afraid to slightly bend the rules. On Weds., Meghan Markle wore dark nail polish and it wasn't the first time.
The duchess attended the premiere of Cirque du Soleil's Totem in a stunning (and rather unexpected) sweeping sequin gown with Prince Harry in tow. She channeled Princess Diana's glitzy style in the dazzling navy-blue Roland Mouret number and a bracelet that used to belong to her late mother-in-law.
It's unusual to see the duchess in full glam, but she balanced out the sparkle with elements she's used to: her favorite navy hue, that low bun she's known for, and the scoop neck that has graced a number of her gowns (including the one she wore to her wedding) so far.
She also didn't stray too far from her nail polish preference, which you know from her past outings is on the darker side. The slit in her dress showed off a pair of sleek strappy sandals and dark-painted toenails, which the royal protocol pretty much deems a no-no.
Unfortunately, nobody actually got close enough to the duchess' feet to get a shade ID, and that's probably for the best. But whether it's black, navy, or a rich maroon, it's unlikely that it would have gotten the Queen's stamp of approval nonetheless.
It wasn't Markle's first time bending the rules with her mani-pedi choices, either. Remember when she wore black nail polish at the British Fashion Awards in Dec.? It was only about a month ago that she cradled her baby bump on that stage, flaunting nails that matched her black dress.
But what can the duchess say? She's partial to a dark color. Surely, she means no offense to long-withstanding royal traditions. One thing's for sure, though: Kate Middleton won't be following suit anytime soon.
A quintessential rule-follower, Middleton mostly leaves hers natural. On the rare occasion that she does paint them, she opts for a neutral nude or light pink — nothing too risqué. Markle, on the other hand, doesn't mind bending protocol now and again.
It isn't unusual for her to forego hosiery, go a tad high on the hem, and swap the traditional skirts for a pair of sleek slacks. Thus, her bold nails are no different than what she's done in the past. Ahead, The Zoe Report's favorite dark nail polishes to recreate Markle's look.
Shop The Look