Kate Middleton Is Obsessed With These Hoop Earrings (& It's Easy To See Why)
Chris Jackson/Pool/Getty Images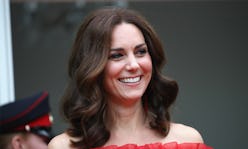 A day after going super casual in combat boots during a visit to a London community garden, Kate Middleton is back to her usual skirt suit and hose. The duchess spent her Wed. morning watching ballet dancers rehearse at The Royal Opera House. And sure, the magenta Oscar de la Renta two piece she wore was stunning, but did you see Kate Middleton's diamond hoop earrings?
The mom of three took some time off over the holidays, but as of Tues., she's back at it in full force. The duchess kicked off her week at King Henry's Walk Garden where she mingled with volunteers and participated in crafts at the kids' table. She made headlines with her Chloé suede combat boots, a stark change from her usual footwear.
Now, she's back to her usual style, sporting Oscar de la Renta to The Royal Opera House on Weds. The set included a collared button-up peplum blazer and a pleated, knee-length skirt. Of course, the duchess adhered to royal protocol with a pair of black tights and pumps.
Her hair was down in big, bouncy waves that she kept pulled behind her ear, exposing the chicest hoop earrings. The 18-carat yellow gold accessories resemble intertwined oak leaves, decorated with dazzling pavé diamonds.
They're by Asprey, the London-based jewelry brand that Middleton has been wearing for over a decade. She wore a button pendant necklace by the brand, for instance, in 2006, and its corresponding button earrings just last year.
The duchess is known for going bold with her earring choices, and while she does love a bargain (Zara, J.Crew, and all your favorites), she clearly doesn't mind splurging on her jewelry. Her latest would set you back about $6,500.
But don't fret; there are plenty of similar earrings out there to suit your price range. The Zoe Report's favorites, ahead.
Shop The Look