Meghan Markle Went Full Glam In A Sequin Gown
Pool/Getty Images Entertainment/Getty Images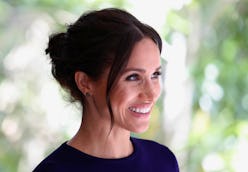 Back-to-back Meghan Markle outfits? Weds. must be your lucky day. After a morning spent playing with rescue pups, the duchess got all dressed up for a date night with Prince Harry at Cirque du Soleil. Meghan Markle's sequin gown is a big step up from her always-casual look.
The duchess has been making her rounds to her four recently announced patronages lately, stopping by Smart Works on Jan. 10, and the animal welfare charity Mayhew on Weds. morning. She's been showing off her minimalistic maternity style along the way, too, wearing an LBD before slipping into that cream-colored sweater dress from H&M.
Markle just stepped up her game in the gown department, though, sporting full-length sequins to the premiere of Cirque du Soleil's Totem at the Royal Albert Hall in London. That's right, halfway through the day, Markle swapped out her cozy sweater for the most sparkly Roland Mouret number, pulled her hair into a slicked-back bun, and gave her lips a swipe of color before heading out for an evening at the theatre.
It's rare to see the duchess this dressed up. Her gown was navy blue with three-quarter sleeves and a wide neck. Of course, it was tailored to meet the royal's maternity needs, too. Markle carried a Givenchy clutch and accessorized with a bracelet from the vault of her late mother-in-law, Princess Diana.
Although her everyday uniform tends to include a suit blazer and trousers, Markle certainly isn't afraid to make a statement with her outfits. Case in point: the black-and-white bird-print tulle dress she wore to the Australian Geographic Society Awards in Oct. But even so, Markle doesn't often go for this much sparkle.
She did test the waters with that sequin halter top she sported to The Royal Variety Performance in Nov. The royal paired her black-and-white, leaf-print top by Safiyaa with a floor-length skirt.
She seemed to have enjoyed the glamorous vibe because this time, she's wearing more sequins than ever before. Markle balanced out the sparkle with familiar elements to keep her comfortable — namely her usual low bun and that wide-neck silhouette she loves (remember this was a key feature of her minimalistic wedding gown, too).
Of course, the duchess always finds a way to challenge royal dress code — whether it be with black fingernail polish, a sheer skirt, or her constant lack of pantyhose (probably to the Queen's dismay) — and her latest look is no different. The Roland Mouret gown featured a subtle leg slit in true Markle style.
Now that Her Highness has shown just how glammed up she's willing to get, let's all just hope she's got plenty more evening engagements penciled into that royal calendar of hers.