How Meghan Markle's Mini Blazer Dress Stacks Up Against Royal Protocol
Charles McQuillan/Getty Images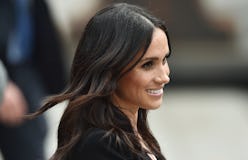 Of the many enviable outfits she's worn this summer, I'm of the belief that nothing has looked quite as chic as Meghan Markle's tuxedo dress. She and Prince Harry saw Hamilton in London on Wednesday, and the Duchess of Sussex arrived in arguably her riskiest dress to date: a fitted black-blazer that skimmed a few inches above her knees. And while royals like Kate Middleton rarely wear dresses without tights, Markle opted for bare legs — a move that has left fashion critics divided over whether or not the new duchess broke protocol.
The royal family's fashion rules are complex. Although the Queen's approval is required for formal outfitting decisions like wedding gowns and tiaras, things like longer hemlines and minimal cleavage are considered etiquette — that is, they aren't set in stone.
Since Markle joined the royal family in May, the duchess has been accused of breaking royal protocol more than once. To wit: Markle wore a controversial off-the-shoulder Carolina Herrera dress to the Queen's birthday celebration in early June, which was followed by a pair of Ralph Lauren pants at Wimbledon (the Queen reportedly disapproves of women wearing trousers).
So, did Markle's Judith & Charles blazer dress break any rules? According to a royal expert, the answer is no.
Shop Meghan's Look
"There are no rules for royal women regarding pantyhose," Marlene Koenig, founder of Royal Musings , told Harper'sBazaar.com. The consensus? Although Markle is one of few royal women to skip out on tights, there technically aren't any rules that forbid her from doing so.
Her outing to Victoria Palace Theater in London's West End wasn't the first time the Duchess of Sussex decided to ditch tights. When Prince Harry and Markle announced their highly anticipated engagement in December 2017, the former Suits actor posed for photos in a Line The Label white coat sans pantyhose. It's worth noting that Markle wasn't officially a royal at the time of the photos, but the decision to take a fashion risk while announcing her joining of the family is admirable.
Although the Duchess of Sussex isn't breaking any true protocol by going bare-legged, Markle is certainly taking risks with her closet — a decision that is perhaps inspired by the late Princess Diana.
Parallels can be made between Markle and Prince Harry's mother, whose wardrobe undeniably redefined royal style.
Alongside shorter hemlines and bare legs, Diana was a frequenter of pantsuits, blazers, and yes, even tuxedo dresses. "I like to be a free spirit. Some don't like that, but that's the way I am," Princess Diana said of her daring nature. Markle seems to be following suit.