Why Louis Vuitton's New Fine Jewelry Collection Is One Worth The Investment
Louis Vuitton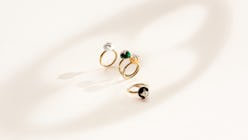 When it comes to investment jewelry, you want to make sure you'll wear it for years to come — after all, it costs a pretty penny, so it's got to be good enough to pair with just about anything in your closet (not to mention pass down to future generations). But that doesn't mean the decadent pieces shouldn't feel of-the-moment and decidedly modern, so you'll reach for them day after day this season. Louis Vuitton's B Blossom Fine Jewelry Collection manages to do both, with beautiful pieces that are guaranteed to make any outfit bolder now, and probably forever.
When you take a look at Louis Vuitton's brand-new fine jewelry collection, B Blossom, you may see something you recognize. That's because the freshly dropped line, which the brand's celebrating with a limited-time pop-up starting May 31 at its SoHo store, features the iconic star-shaped flower that's found across the house monogram. The timeless floral design, created by Georges-Louis Vuitton in 1896, adorns the luxury jewelry pieces in diamond-encrusted form, for lots of glittery, elevated glamour from every angle.
The stunning collection was inspired by confident women and includes pieces that range from bauble-shaped rings, oversized charm bracelets and cuffs, pendant necklaces, and dangly earrings, all of which are practically made for stacking and layering (here, less is not more). And like Louis Vuitton's timeless monogram print, they're simultaneously contemporary and classic — so they're totally worth the investment.
And though the designs may be bold, they're not overly ornate. In fact, each piece is simple in essence, with geometric shapes like spheres and squares complementing the modern interpretation of the Vuitton star-flower for a playful effect. But the high-shine metals of yellow, pink, and white gold, and the luxurious materials including pink opal, white mother-of-pearl, onyx, malachite — and of course, a hefty dose of diamonds — are what take these statement pieces to the next level.
Love the look of lots of multi-colored rings across your fingers? Add one or two of the B Blossom signature bauble-shaped rings to your collection. Featured in several different color ways, including this pink gold, pavé diamond and opal style for $5,400 and the yellow gold and malachite iteration for $3,650, they're easy to stack together (à la Sophie Turner in the B Blossom campaign) or with simpler bands, but look just as stylish worn alone as a single cocktail ring.
Or opt instead for a pair of earrings, like the dangly B Blossom Earrings in Yellow Gold, $8,550, which feature the floral motif in mother-of-pearl within yellow gold squares. Pair them with one of the collection's modern takes on the charm bracelet, an $8,700 yellow gold iteration with the same square design plus a pink opal that boasts a diamond-encrusted flower. Both pieces would instantly elevate a basic ensemble of trousers and a blouse, but would do equally well worn to a black-tie event.
Was this little peek enough to convince you to invest in a new piece or two for your own jewelry collection? Whatever your answer, keep scrolling to see even more from the seriously luxurious new launch, and head to Louis Vuitton's site for the whole line.