Why Louis Vuitton's New Watch Is An Investment Piece That's Worth Your Money
Courtesy of Louis Vuitton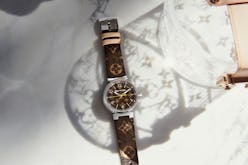 When investing in a luxury accessory, you probably want to ensure it's something you'll reach for time and time again. Picking something that's as practical as it is stylish is one way to guarantee it's worth the price — and what's more useful than a watch? A timeless timepiece is an accessory you can actually feel good about splurging on, and Louis Vuitton's Tambour Icons watch collection is all the proof you need.
If there's one thing that iconic French house Louis Vuitton is known for, it's the dedication to the brand's signature prints and and logo, which can be found across its offerings of handbags, accessories, clothing, and more. And now, those world-famous prints — namely the Monogram and the checkerboard Damier Graphite canvases — have found their way onto Louis Vuitton's latest launch of luxe watches.
The brand-new Tambour Icons collection, now available at Louis Vuitton boutiques, includes four new timepieces ranging in price from $2,690 to $3,200. Each watch combines a classic polished steel silhouette historically used by the brand with freshly designed dials and a bold new use of Vuitton's hallmark canvas prints. Rhodium plated hands display the hour and minute, alongside a contrasting colored seconds hand.
The Tambour Monogram features Louis Vuitton's ever-stylish LV monogram pattern on the interchangeable strap and on the sleek watch face for an impactful, statement-making look. A contrasting yellow seconds hand completes the classic style and adds a utilitarian vibe. It's up for grabs in three different sizes, including a demure and feminine 28 millimeter diameter and two larger (and equally elegant) 34 and 39.5 millimeter diameters.
Louis Vuitton's other signature canvas print, the checkerboard Damier in a luxe graphite color way, is found on the collection's largest watch. The 41.5 millimeter diameter timepiece again shows off the brand's iconic pattern on both the strap and the analog watch face, which features a cool blue seconds hand for a modern pop of color.
All four watches present an elevated way to work Louis Vuitton's world-famous patterns into your wardrobe on a daily basis — especially if you're not one for the head-to-toe logo-mania look.
The largest sizes make for great statement pieces from day to night (consider the watch as impactful an accessory as your handbag), while the smallest makes for an elegant evening option that could easily replace jewelry when worn with a sleek, modern cocktail dress. Since all eyes will be on your incredible new accessory, you're free to keep the rest of your look minimal, so opt for pieces that complement without overshadowing.
The practical nature of a classic timepiece like the Tambour Icons ensures every look comes off effortless and intentional, never fussy or overly done. And that's something well worth investing in, no? Head to your nearest Louis Vuitton storefront to try the look for yourself.