Mejuri's Newest Collection Takes The Guesswork Out Of Layering Your Jewelry (& It's So Chic)
Courtesy of Mejuri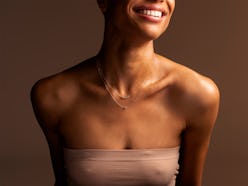 Bold, big, and bright jewelry is one way to make a statement. But dainty, delicate, and effortlessly demure pieces are just as deserving of praise. That's the idea behind Mejuri's More Skin, More Gold collection, which offers up chic and simple pieces rendered in shiny gold and sterling silver so you can stack and layer your way to a stylish look. It's quite possibly the brand's best drop to date — and since these chic pieces are made to be worn together, it's fully acceptable to go right ahead and grab them all.
Cult-adored jewelry brand Mejuri is beloved for many things, its accessible price point and minimalist, everyday aesthetic among them. And on May 20, the cool-girl line released even more reasons to fall in love — aka, every single item in its More Skin, More Gold collection. All of the pieces are quintessential Mejuri, with clean lines, unexpected shapes, and wear-with-everything appeal, plus a price range that doesn't reach past $200 (despite plenty of sparkle by way of shimmering white sapphires). Expect to love it all, and live in it every day.
If your accessory game is governed by an overall minimalist aesthetic, you may think layering is out of the question. After all, less is more, right? Not so, says Mejuri. The latest collection of 14 karat gold and sterling silver pieces is practically begging to be mixed, matched, and worn together, and completely takes the guesswork out of creating a multi-layered jewelry look. But thanks to the delicate chains and subtly striking details throughout, you'll still achieve a sleek vibe — this launch is all about balance.
Pair Mejuri's bold new Lariat Slide Necklace, $60, with the white sapphire-encrusted Crescent Necklace, $70 to play with contrasting lengths and provide a touch of sparkle to any outfit. The lariat piece features an adjustable length so you can wear it short or long (depending on how deep your summery V-neck blouse plunges), and both styles are available in gold or sterling silver.
Or, sub in one (or more) of the sphere adorned necklace that subtly make a statement by way of plenty of gleaming gold. The Bold Spheres Necklace, $170, features six identical golden balls threaded on a barely-there chain, while the Single Sphere Necklace, $160, shows off just one. Worn together or alone, they're perfectly suited to complement bronzed, shimmery summer skin.
It's not just necklaces up for grabs in this gorgeous new launch — Mejuri's also serving up sweet and simple earrings and a delicate chain bracelet to complete your summer ensembles. Add the $80 Chain Bracelet to your stack of on-trend bracelets to streamline the ensemble, and don a pair of dangling earrings to draw attention to your bared shoulders. The Sapphire Studded Threaders, $200, are especially stunning and will catch the light for sparkle with every step.
Essentially, Mejuri's latest collection strikes the ideal balance between subtle and statement-making — all the while serving as the perfect complement to your skin-baring summer vibe. Below, see and shop all the pieces, and snag them while you still can.