This Insta-Famous Brand Just Launched A Fine Jewelry Label — & It's Stunning
Courtesy of Ok Fine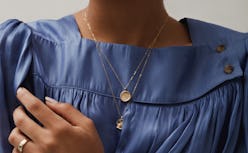 It's rare to see a fashion brand — whether it be clothing, accessories, or any other facet — purposefully slow down. And when Fiona Morrison and her team decided to launch Ok Fine, Wolf Circus' sister jewelry label, it came with its own set of challenges. "Launching a second brand is always stressful and never seems like the right time!" Morrison tells The Zoe Report via email. After all, where was there to go? Morrison founded the minimalist jewelry brand Wolf Circus in Vancouver back in 2013 — and the sleek, feminist-inspired pieces took off on Instagram, where Wolf Circus' dreamy aesthetic thrives.
"But I think it's important as a brand to grow with our customers as they start investing in more quality pieces and recognize the importance of slow fashion and sustainability," Morrison adds. "Also I had a few designs in mind that I have been dying to wear and using them for this collection seemed like the perfect fit."
Enter Ok Fine, which landed online May 1. As the name implies, it's the fine jewelry side of Wolf Circus; and if you fell in love with Wolf Circus' cheeky, whimsical pieces, you're still in luck. Retailing anywhere from $460 to $920, this initial drop works to fill a gap in the fine jewelry industry: Heirloom pieces for the next generation of women — who look for unique pieces not everyone is wearing, and buy any jewelry they love for themselves.
That's not to say that you won't want to slip an Ok Fine piece onto your next holiday wishlist. You may even choose to wear one of the brand's pieces for the rest of your life; Ok Fine's rings would make effortlessly modern engagement bands. (Especially for those on-the-hunt for eco-friendly engagement ring choices.)
Investing in the sustainability of its jewelry pieces was important to Ok Fine as a brand, as well — and it meant using old sources of materials in new ways. "Our brand has chosen to work with recycled metals to decrease our impact on the mining industry. We are working with a U.S.-based refinery who meets the industries' ethical standards for recycling metals," Morrison says. "They are using gold sourced anywhere from old jewelry, gold teeth, and coins."
It also just so happens to play into the fine jewelry's more affordable prices, too. However, creating high-quality pieces under $1,000 does require a special touch. "We do this by putting attention into the details of each piece. The stones we have selected are minimal yet set still make a statement and our small Vancouver production team and recycled methods keep material waste to a minimum," Morrison explains.
And this detail-oriented, slow fashion approach may require some waiting by fans, who are already hungry to see more from the new label. Morrison notes that Ok Fine will release new collections in the spring and fall — "along with a few new style launches in between."
But for now, you can explore this initial Ok Fine collection on the brand's website, or by browsing the links below.