No Plans Yet For Fourth Of July? These Glamping Trips Can Still Be Booked
Image Source: Glamping Hub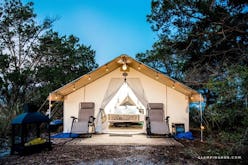 This summer's star-spangled holiday is less than a week away, and if you've got no plans yet, stay tuned. There are plenty of last-minute glamping trips you can still book for the Fourth of July, ensuring your (long) weekend will be filled with the season's best festivities.
"There is no better way to spend America's most popular holiday than by being surrounded by friends and family, barbecuing burgers and hot dogs, watching the fireworks, and now glamping," says Jessica Armstrong, partnerships manager for Glamping Hub. "Glamping makes for the perfect way to celebrate the Fourth of July because it allows holiday-goers to get outside and embrace one of the best parts of the USA: The great outdoors."
That's right, if you love breathing in fresh air, savoring scenery, and sitting around the campfire — but don't want to sacrifice amenities (or even your favorite little luxuries) — glamping is the perfect compromise. What better way to celebrate the *official* kickoff to summer?
Ahead, you'll find five gorgeous glamping listings around the U.S. that, as of now, are still available for Fourth of July weekend. If you're looking for something a little closer to home, visit the Glamping Hub Fourth of July portal, where you can check the availability of accommodations near you. Just be sure to book ASAP, before your favorite listings get snapped up.
If you've ever dreamed about being secluded on your own private island, a stay at this ritzy listing could be your best chance. Here, you and four of your closest friends or family members will have the whole place to yourselves.
The best part? Being far from civilization doesn't have to mean giving up posh amenities like memory foam mattresses and designer linens. "Tucked away on a private island in the Golden Isles of Georgia, this safari tent for five defines luxury in nature," says Armstrong. "Don't miss out on spending your Fourth of July by having an authentic crawfish cookout by the private chef on-site."
Have a big group that enjoys togetherness and privacy, too? This listing offers the best of both worlds. Rent this cluster of five A-frame cabins (each sleeps two), and you can spend quality time friends and family, then head back to your very own cabin when it's time to pack it in.
"These unique A-frame cabins for groups will make for the perfect home away from home for you and all of your glamping pals," explains Armstrong. "From canoeing and kayaking, to campfires and archery, try your hand at one of the adventurous activities offered at this glampsite."
Whether you're planning an epic girls getaway or a romantic weekend with your S.O. (you can even bring your dog on this one), this gorgeous dome rental offers a unique experience you'll never forget. It's located on a farm, where you can enjoy swimming, horseback riding, biking, and even visit the property's farm animals. Clear panels in the structure allow you to soak in the scenery of the Catskills by day, then stargaze by night. However, bookers should know the dome is BYOB: bring your own bed.
Between this dome that sleeps 25, plus a caravan and tiny house also located on the property, "this glampground will give you all the community feels for an epic celebration," says Armstrong.
Celebrate Independence Day in vintage American style by camping out in a cozy Airstream. (Fun fact: Airstream inventor Wally Byam was born on July 4, 1896 — how fortuitous!) This particular pod has room for two and includes all the comforts of home, like a bathroom, kitchenette, and a minibar.
In nearby historic Hico, you can see about local festivities, grab a bite, or browse the shops before heading back to your abode. Or if you'd prefer a quieter celebration, you can "sit outside your Airstream with a cold beer and a hot dog to watch the fireworks right from your rental," says Armstrong.
Perhaps you're feeling more stressed than star-spangled, and if this is the case, consider spending the long weekend with your S.O. at a romantic seaside rental. Surrounded by tropical flora and fauna and just steps from the beach, this eco-hut is "perfect for a couple looking for a secluded escape," says Armstrong.
If you decide to venture out during your stay, the hut is just a 20-minute drive from restaurants and shopping in the town of Pahoa, plus there's snorkeling and hot ponds nearby, too. And if you're really feeling festive on the Fourth, head to Hilo (about 45 minutes away) to catch one of the best firework shows on the Big Island.