The Most Romantic Vacations For 2 Involve Treehouses — Really
Source: Glamping Hub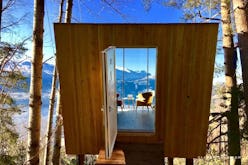 Tree houses may seem like a thing of the past (as in, a fantasy from when you were a kid), but as it turns out, they're making a comeback. With the rising popularity of unique accommodations, these above-ground structures are the new "it" thing in bucket-list travel. Nowadays, the most romantic vacations for two involve tree houses, and when you consider the elements of nature, seclusion, and luxe amenities, it's no surprise why.
Amy Ahlblad, partnerships manager for Glamping Hub, says that tree house listings are among the most popular on the site. "Tree houses are a magical type of accommodation that speaks to childhood dreams," she points out, adding that the ability to literally sleep in a tree brings you closer to nature. "The serene surroundings, the touch of magic, and the rural peace of mind are what makes them the perfect choice for a couple." Makes sense, doesn't it?
Ahead, check out five romantic tree house listings, around the country and around the world. Whether you're looking to reconnect with your partner, plan an international escape, or book a memorable weekend a road trip away, there's a tree house retreat for every occasion, budget, and glamping style.
If you and you S.O. are in search of a romantic rendezvous that's truly bucket list-worthy, set your sights on the mountains of Norway. This glamping site near Sandane features a lookout over breathtaking scenery, plus a double bed and a hammock for relaxing. Amenities like a simple kitchen and a private bathroom mean you can hunker down for some much-needed peace and quiet. That said, there are plenty of outdoor activities to enjoy, such as boating, swimming, hiking, and sightseeing at the nearby Jostedalsbreen National Park.
This stunning treetop sanctuary is nothing short of magical. You and your other half will feel secluded while surrounded by lush forests and mountain springs with miles of hiking trails to explore. But if you start to miss the city lights, don't worry; this treehouse is only a 10-minute drive from Chattanooga, Tennessee. There, you'll find plenty to do: shopping, restaurants, museums, night clubs, and even the Lake Winnie Amusement Park are all nearby. And after all that excitement, you'll look forward to heading back to your cozy abode.
Couples can unplug without sacrificing amenities at this spot in Spain, which includes a private in-cabin half bathroom as well as a private full bathroom in the main house (accessible by key). There's lots to do on-site, as the grounds feature a swimming pool and a restaurant where guests can go for dinner or order a romantic meal in. You'll also have the option to rent bicycles, go horseback riding, or canoe; according to the description, the hosts will even prepare a picnic lunch for couples to take along on a boating adventure.
This incredible accommodation features two structures connected by a rope bridge (the second unit be converted to an additional sleeping space or a lounge area), so there's plenty of room for you and your honey to spend some leisure time. One of the prized amenities of this place is a cedar hot tub, situated on a rustic deck that overlooks the landscape. You'll find lots to do nearby, too; check out the beautiful beach at Reid State Park or explore restaurants and shops downtown. Further, you'll only be an hour's drive from Portland, which is becoming renown for its thriving food scene.
Stargazers and solace-chasers will love staying in this stunning high rise. Located on Crystal Peak and surrounded by forest in the small town of Fernwood, this is the perfect retreat for couples looking for a break from the hustle and bustle. You and your honey can stop by the town's mercantile store to pick up a few necessities before escaping civilization, then during your stay, you can hike, lounge, and inhale the fresh forest air in total seclusion. You'll also feel rejuvenated after spending some time relaxing in the on-site sauna, by the outdoor fire pit, or snuggled near the indoor fireplace on chilly nights.