Untraditional Engagement Rings Are Having A Moment & Lady Gaga's Is No Exception
Emma McIntyre/Getty Images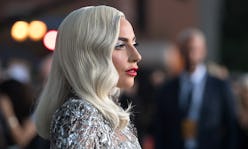 During ELLE's 25th Annual Women in Hollywood Celebration on Mon. evening, Lady Gaga officially confirmed what has long been speculated: her engagement to boyfriend Christian Carino. Since her announcement, all eyes are on Lady Gaga's engagement ring, which has actually been on the singer's finger since late 2017. The singer's glitzy pink stone is incredibly unique — and it's proof that untraditional engagement rings are on the rise.
Few details surrounding Gaga's engagement ring have been released, but Kathryn Money, vice president of strategy and merchandising at Brilliant Earth, offered The Zoe Report some expert insight into its possible design and price.
"The center gemstone in this gorgeously feminine ring appears to be either a pink diamond or pink sapphire," Money shares with The Zoe Report via email. "The vivid pink gemstone is surrounded by a floral halo of 12 colorless round diamonds, set in white gold with a yellow gold band."
As for the ring's estimated value? "A natural pink diamond of this saturation and size would be very rare, easily costing over $1 million. If made with a premium quality pink sapphire of roughly 11-13 carats, this ring would cost upwards of $100,000, depending on the characteristics of the specific gemstone," Money says.
In the closing remarks of her powerful Women in Hollywood acceptance speech on Mon., the A Star Is Born actor thanked a number of people, including, "my fiancé, Christian," the key word being "fiancé." This moment marked the first time Gaga addressed that she and Carino are, in fact, engaged and planning to get married. People confirmed the two were dating in Feb. 2017, with news of a possible engagement starting to swirl in Nov. 2017. In late 2017, Gaga was first spotted donning a large pink diamond ring while on her Joanne world tour.
Since then, she's worn the eye-catching accessory at countless public events, including the 2018 Grammys, the 75th Venice Film Festival, and during the UK premiere of A Star Is Born in late Sept. But until Mon. evening, it was only speculation that the diamond ring on Gaga's finger was an engagement ring from Carino.
Lady Gaga's pink diamond sparkler is a very untraditional pick — something that's right in her wheelhouse, considering the fact that she's known for her bold, out-of-the-ordinary style choices. Unique engagement rings have become the go-to for modern brides, so Gaga's choice also aligns with emerging jewelry trends.
According to Money, colored gemstones surrounded by diamond halos and mixed-metal settings are gaining popularity. She notes Princess Eugenie's engagement ring, a three-carat padparadscha sapphire encircled by diamonds, as a prime example.
Prefer to go a more unconventional route with your engagement ring? Ahead, shop The Zoe Report's favorite pink-hued picks inspired by Lady Gaga's.
Shop The Look