Why Signet Engagement Rings Are Primed To Be The Next Modern Trend
John Phillips/Getty Images Entertainment/Getty Images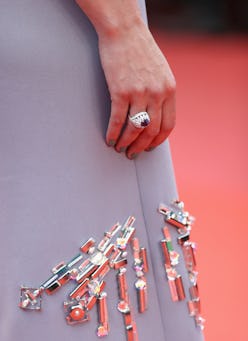 I'll never bemoan the fact that part of my job includes researching engagement ring trends — the amount of "ring selfies" I have on my iPhone is truly astounding. All in the name of research! Engagement ring trends tend to evolve slowly when compared to ready to wear. So, as popularity shifts from traditionally cut diamonds to unique settings and vintage styles, it's my duty to bring to you the latest and greatest to emerge from the fine jewelry scene. Right now, I'm firmly of the belief that signet engagement rings are the next trend modern brides will love.
Over the past few years, there's been a shift away from the traditional, cookie-cutter ring, with modern brides moving toward more unique styles. But, that doesn't mean tradition is entirely out the window — online retailer, 1stdibs (the website is a mecca for fine jewelry, vintage fashion, and antiques) reports that platinum-gold and white-gold metals made up 51 percent and 22 percent of ring orders in the past six months while seemingly trendier yellow-gold and rose-gold metals made up just 14 percent and 4 percent of orders, respectively. The retailer also reports that rings with diamonds have consistently made up over 95 percent of the sales in the last six months (versus the same time period in 2017) as opposed to rings with colored stones.
While these stats certainly show a split between traditional and contemporary tastes, it does prove that nearly half of brides-to-be in the past year revel the unexpected. To me, signet engagement rings bridge the gap between these two preferences.
Signet rings — which may also be known as gypsy rings, despite a few technical differences — have been in the spotlight recently, with dainty, monogrammed, and diamond-dusted styles popping up in the collections of both affordable and fine jewelry brands. They've inevitably made their way to the ring stacks of stylish girls aplenty.
"Signet rings have a long and rich history in jewelry and were always geared towards men, but gypsy rings — which are rings that feature a stone or stones set into a band that runs flush with the metal — were traditionally for both men and women," says fine jewelry designer Lizzie Mandler.
Now, signet rings have emerged with a bit more modernity to them. "A signet ring traditionally didn't have any stones and if it did, it was usually a carnelian or onyx stone which the intaglio would be carved into" explains Mandler, adding that a signet typically had initials or a family crest carved into it as it originated from the rings used to stamp wax seals.
New-age signets vary from sleek styles to traditionally weightier silhouettes and maintain an elegant feel that many brides crave. "The signet ring trend for engagement rings is coming up more and more for me these days," says Mandler.
Jenny Klatt and Stephanie Wynne Lalin of the fine jewelry label, Jemma Wynne (whose growing roster of celebrity fans includes Rihanna, January Jones, and Reese Witherspoon) agree that there has been a spike in interest for alternative engagement rings and signets are definitely part of that.
"Some women want something non-traditional, but don't want to take too much of a risk for fear that their ring won't suit them later on. A signet ring is such a timeless piece and often considered an heirloom, just like an engagement ring, so it's a natural idea to merge the two," the designers say.
Whether you're on the brink of engagement or regularly fantasize about diamonds, signet engagement rings are ideal if you're drawn to unisex jewelry, or for practicality's sake, want something that's more durable.
"Some [people] don't wear their engagement rings all the time because they feel like they're too precious or 'fancy' for everyday wear," Klatt and Wynne Lalin say. "Signets can be a great option because they're ... a bit more understated."
More than practical, Mandler says signet-style engagement rings appeal to those who want something bold, but modern and simple at the same time, especially if you're one to already wear chunkier rings.
"Pay close attention to the angles and curves — softer and more rounded shapes will feel slightly more delicate than square and sharp-edged stones," she says. "It's just about the subtleties of the angles and how the ring tapers down."
If you want a less-flashy engagement ring without sacrificing the symbolism, Klatt and Wynne Lalin say that signet rings are choice.
"They're great for a woman whose aesthetic may be a touch more casual but still polished and very fashion forward," adding that the ring's uniqueness will also come from finding a very cool stone and really highlighting that. "We tend to gravitate towards geometric and deco shapes like Asschers, rectangles, and shields. We love how they look set in a signet ring," the designers share.
With a signet engagement ring (and really, any style of engagement ring), be aware that larger stones are deeper, resulting in a ring that will extend farther off the finger. "The bigger the stone, the bulkier the ring will get in all directions," Mandler says. "Signet-style rings enclose the stone in metal, so if the stone is large, the ring will be extra 'metal heavy', which isn't a bad thing, but something to consider when choosing your stone."
If you're in the market for a just-modern-enough engagement ring with an old-world feel, a signet style is an undoubtedly a fine choice. But who says diamond signets are exclusively for the soon-to-be-wedded? If it's within your means, up the ante of your rings stacks with a diamond signet ring on your pinky finger whether you're for an east-west set marquise stone or a classic oval done in sleek, shiny gold.