Princess Eugenie Paired Her Pink Engagement Ring With The Perfect Gold Band
Yui Mok/WPA Pool/Getty Images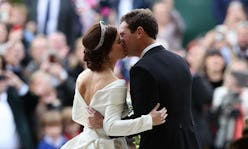 During their ceremony at Windsor Castle on Fri. morning, Jack Brooksbank slipped the perfect gold band onto Princess Eugenie's finger. Considering how unique her engagement ring is, Princess Eugenie's wedding band is the perfect minimalist addition. Brides, take note: Princess Eugenie's rings offer the ultimate jewelry inspiration.
The royal couple tied the knot in St. George's Chapel at Windsor Castle on Oct. 12. Although Eugenie opted for an untraditional backless gown, the bride followed in the footsteps of royal women before her by opting for a Welsh gold wedding band. Since the Queen Mother's wedding in 1923, royal brides have chosen simple Welsh gold bands, including both Kate Middleton and Meghan Markle.
Although Brooksbank presented his bride with the ring, Eugenie's band is a gift from her grandmother Queen Elizabeth. Brooksbank opted to forgo a ring himself, as did Eugenie's cousin Prince William during his 2011 ceremony.
Eugenie took a minimalist approach with her band, but the Princess' engagement ring is incredibly unique. Brooksbank proposed to Eugenie in Jan. with a pink padparadscha sapphire ring surrounded by diamonds. Although very different in color, Eugenie's ring vaguely resembles Middleton's 12-carat blue ceylon sapphire. Eugenie and Brooksbank debuted the ring with a series of engagement portraits in Jan.
Unique engagement rings have become increasingly popular in recent years. While celebrities like Sarah Jessica Parker and Amal Clooney opted for traditional (albeit, gorgeous) cuts, the likes of Emily Ratajkowski and Gwyneth Paltrow gravitated towards the unexpected.
Jewelers have even witnessed a spike in the sale of vintage-inspired designs like signet and gypsy rings. "Signet rings have a long and rich history in jewelry and were always geared towards men, but gypsy rings — which are rings that feature a stone or stones set into a band that runs flush with the metal — were traditionally for both men and women," Lizzie Mandler, jewelry designer, told The Zoe Report in Sept.
It appears, then, that Eugenie is right in line with the trend, as her ring is a stark contrast from the simplicity of, say, Meghan Markle's.
It's fitting that Eugenie chose a bold engagement ring, as she's proven to be an impressively modern royal bride. In addition to her jewelry, the most unique choice for her Oct. 12 wedding was definitely her backless gown. Designed by Peter Pilotto and Christopher De Vos, Eugenie's dress features a low back for an important reason.
Eugenie specifically requested the backless design in an effort to highlight the scar from her childhood spinal surgery, Kensington Palace confirmed. "I think you can change the way beauty is, and you can show people your scars and I think it's really special to stand up for that," the bride shared during an appearance on U.K.'s This Morning prior to the ceremony.
It goes without saying that Princess Eugenie's wedding has certainly lived up to its expectation. Although Meghan Markle and Prince Harry's ceremony was just a mere five months ago, Eugenie and Brooksbank's wedding proved equally inspiring.