Target's New Skincare Arrivals Will Keep You Hydrated And Glowing All Winter
ImaxTree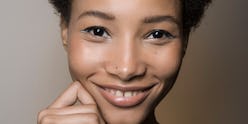 With blustery winter days nearly here, it's imperative to take protective measures so skin stays healthy and hydrated – because a dry, chapped complexion is really never fun. Luckily, there's an easy solution. You can stock up on new moisturizers at Target the next time you shop at the essentials superstore, where there are several just-dropped (and affordable) options for you to pick from. A winter without the skin woes? Yes, please.
Since Target regularly stocks all the best cheap brands in every category, it's forever a go-to for the latest in drugstore beauty. So when the big box store drops a slew of new moisturizers just in time for winter, trust that they'll be affordable yet effective options to consider to get your skin through its least favorite season.
And not only are the newly arrivals super hydrating, they also promise to tackle a slew of other skin concerns, from bringing glow back to a dull complexion to providing powerful SPF protection (equally as important during the winter months). So not only will your skin avoid the drying effects of colder weather, it'll also be looking brighter and more radiant. All that for much less than the cost of luxury brand moisturizers – you won't find a moisturizer in Target's new arrivals over $25.
If you're all about trying to keep the glow going this winter, reach for Garnier's Apricot Illuminating Facial Moisturizer, which comes in at $9.99. The formula uses apricot extract and sheer tinted illuminating pearls to brighten skin on application, so you instantly look lit from within. It also works double duty as a primer to add a dose of glow that'll shine from beneath foundation. Use it in the morning to streamline your makeup routine.
And since anti-pollution beauty products are trending, Neutrogena's latest launch is offering up a new moisturizer that promises to fight free radicals for $19.99 a jar. The brand's Hydro Boost City Shield Water Gel uses its popular water-gel formula, and jams it full of antioxidants that help build a protective barrier against harmful environmental factors. Plus, it has SPF 25 to shield your face from UV rays, so you'll be covered in more ways than one.
If your goal is to reduce the look of fine lines, go for Target's drop of drugstore mainstay POND'S. The $9.99 Rejuveness Daily Moisturizer with SPF 30 uses a combination of collagen and alpha hydroxy acids (aka AHAs) to smooth the appearance of your complexion and diminish fine lines. Fans of POND'S can also try the brand's other new release, a brightening moisturizer that uses vitamin B3 to tame hyper-pigmentation for a more even skin tone.
Whatever skin hydrator you choose to snag this season, make sure you do it quickly — the harsh weather will be here before you know it, and your skin will thank you for being prepared. Browse Target's latest drop of moisturizers below, and head to its online store for more.