Kris Jenner Is Platinum Blonde, And The Instagram Post Is Too Much To Handle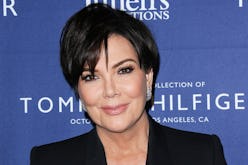 We bet you can't think of a time when you saw Kris Jenner in a hairstyle that wasn't a dark brunette pixie cut. Yeah, neither can we! Ever since she's been in the spotlight, the Kardashian mama's hair has remained the same. That is until Kim posted a photo on Instagram of Kris wrapped in a white fur, wearing a silk pajama suit and red leather booties while sitting next to her cherry red crocodile Birkin and holding a martini. Oh yeah, and she's blonde—like, full-on platinum blonde.
While every family member from Kim to Kylie has tried the icy hair color, we never thought we'd see the day Kris herself would take the peroxide plunge. While we accept the fact that she could very well be wearing a really good wig (this family loves a good wig), we're hopeful the 61-year-old is not only open to change, but setting an example for mature women everywhere. Who said experimenting was only for 20-somethings?