Miranda Kerr Began KORA Organics In Response To 'Toxic' Fashion Week Beauty Products
Pascal Le Segretain/Getty Images Entertainment/Getty Images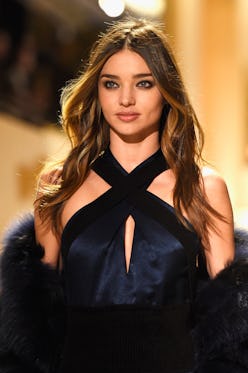 From the outside looking in, everything about Fashion Week beauty seems glamorous. The backstage sheet masks! The high-fashion makeup looks! The harsh chemicals! Well, most people don't really think about that last one — but model Miranda Kerr does. "You would lose count of how many products touch your face per day, to be honest," Kerr tells The Zoe Report of her experiences backstage at Fashion Week. "Each runway show had its own direction for hair and makeup, and we'd have our faces put on and taken off several times a day." That meant Kerr spent a lot of time sitting in a makeup chairs, thinking about how, exactly, all those products were affecting her health. "I noticed that most skincare and beauty products contain toxic ingredients like parabens, sulfates, silicones, and fragrances," she says. "This is how I came to develop KORA Organics."
KORA Organics, as you probably already know, is the skincare brand Kerr launched in 2009 in her home country of Australia (it's only been available stateside since 2017). Although celebrity beauty lines are de rigueur today, as are "clean" ingredients, Kerr is in a category all her own on both accounts. KORA isn't just a side project; it's her full-time job, one she's effectively given up modeling to pursue. And KORA goes beyond being clean; the ingredients are certified organic.
"Clean beauty is a wonderful step in the right direction, but certified organic is so much more than clean beauty," she tells TZR. "There are more antioxidants in the organic ingredients used because the produce is grown on soil that is nutrient-rich, which is also why people buy organic food." Studies show that organic ingredients (whether they're meant to be slathered on your skin or cooked up for dinner) do have more nutritional value than their conventionally grown counterparts. What does that mean for your face? Better results.
This is a point the model and businesswoman wants to drive home: "For me, results and performance are everything," she says — which makes sense, considering her face is kind of her moneymaker. At KORA, she collaborates with "the best organic chemists in the world" to innovate formulations that "push the boundaries in certified organic skincare." Each iteration of every mask, oil, and serum is tested by Kerr herself. "I go back and forth with the lab until they are achieving the very best results," she says. So if you're of the (popular) mindset that natural ingredients don't work as well as synthetic ones, perhaps it's time to give organic natural ingredients a try.
Potency aside, there is a more pressing issue to address here: health and safety. "People are now so concerned with eating organic, non-processed, non-GMO foods for example, but they don't think about all the chemicals in the everyday products they are using and putting on their skin," the founder shares. "It's something I feel very passionate about, because what you put on your skin soaks directly into your bloodstream." (Recent FDA studies have found this to be true with chemical sunscreens, among other lipid-soluble chemicals.) That's why Kerr is on a mission to spread the gospel of organic not just to consumers, but to industry leaders — especially those in the high-fashion and beauty space.
"I am so thankful for the public profile my modeling career has given me," the entrepreneur tells TZR. "It has given me a unique platform to launch my brand and a following that I have been able to educate on the importance of using certified organic skincare, and the powerful benefits and incredible results of using KORA Organics."
Now that Kerr is (mostly) done with runway shows and the backstage beauty products that come with them, she keeps her routine simple and sans toxins. Ahead, the exact skincare and makeup products she uses on a daily basis to keep her complexion fresh, glowing, and free from harsh chemicals. (Fashion Week makeup artists, you might want to take notes.)