5 Fall 2019 Makeup Trends Straight From Paris You Can Wear Right Now
IMAXtree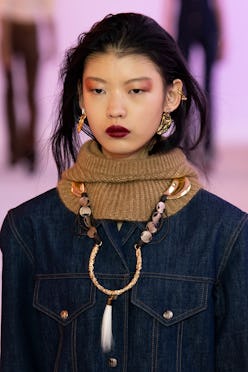 The idea of French girl beauty has been discussed ad nauseam — to the point where even a casual observer can list off the characteristics. The tousled waves, the glowing skin, and the devil-may-care attitude are all part of the French girl mystique. And while the collections showing in the City of Lights absolutely tapped into that sensibility, the Paris Fashion Week Fall/Winter 2019 makeup trends turned those typical looks on their head.
Sure, there was red lipstick. But instead of it being the blotted, just-made-out lipstick we typically see on French women, it was a little more refined and elegant. Winged eyeliner was seen on the runway, but it was bright red and out-to-there.
Other trends got turned on their head completely. Instead of the typical boyish, bushy brows that French women have come to know and love, designers like Dior and Christian Wijnants sent their models down the runway with barely-there brows — either blotted out by makeup or dyed blonde with bleach. Trends like this showed that what we consider "French beauty" is constantly evolving. The tousled waves and glowing skin may be eternal, but there's still a little edge to our Parisian counterparts.
Ahead, find the makeup ideas for the fall that you should definitely know about. They'll have you rethinking everything you know about French girl beauty.
Graphic Liner
Seen at: Margiela, Lutz Huelle, Dior, Marques Almeida
Get the look: Graphic lines took over the runway for Paris Fashion Week. The look at Margiela was inspired by Swan Lake, with makeup artist Pat McGrath sketching on an out-to-there line that mimicked Natalie Portman's iconic look in Black Swan. At Dior, makeup artist Peter Phillips used Diorshow's On Stage Liner in Matte Black over a black cream shadow to create a Twiggy-inspired liner look — lashes included.
Lutz Huelle opted for a more classic take on black eyeliner. Makeup artist Terry Barber used MAC's Blacktrack Pro Longwear Fluidline to draw a thick line around the lashes. He left the lashes bare, though, to keep the attention on the liner. It was a cool-girl take on the liner we all wore in our early '00s middle school photo.
A Twist On Wings
Seen at: Guy Laroche, Saint Laurent
Get the look: Backstage at Guy Laroche, makeup artist Kabuki opted for a red liner look over a classic red lipstick look. "It would have that more modern, minimal look than a traditional red lip would give you," he explained. Instead of a shadow or a liner, Kabuki actually use MAC's Retro Matte in Fashion Legacy, because it has more orange undertones. He created the tapered line by asking models to tilt their chin up, and then drew right along the lash bed.
The eyeliner at Saint Laurent, done by Tom Pecheux, was black, but it was a a cat-eye on steroids. The line extended almost all the way to models' hairlines. It was a flat line, too, instead of something curved, giving the look an ultra-modern feel.
Barely-There Brows
Seen at: Christian Wijnants, Dior, Ann Demeulemeester
Get the look: Sure, bleaching out your brows may not always be the most logical move for a one-time makeup moment. But if you're someone with naturally blonde or light-colored brows, this is your season. Dior, Christian Wijnants, and Ann Demeulemeester all sent models down the runway with barely-there brows. In the case of Dior, it was to showcase the graphic liner looks. But at Christian Wijnants and Ann Demeulemeester, it was to compliment an already-natural makeup look.
At Ann Demeulemeester, makeup artist Hiromi Ueda used MAC's Shape + Shade Brow Tint in the models' natural shade to fill in the gaps. So if bold brows aren't your thing, then this is the look for you.
50 Shades Of Blue
Seen at: Mugler, Marques Almeida
Get the look: If you think that blue eyeshadow is so 2008, then you'll be pleasantly surprised by the blue shadow from the Paris runways. Instead of sparkly and twee, these looks were graphic and gorgeous. At Mugler, makeup artist Inge Grognard painted thick blue lines across models' lids to play off the primary color of the red lips. At Marques Almeida, the look was less bold and more buffed. A light blue shadow was buffed around the eyes to mimic little clouds, creating a serious halo affect.
Rich Red Lips
Seen at: Chloe, Paco Rabanne, Mugler
Get the look: It wouldn't be Paris Fashion Week without some sort of red lip — and the runways did not disappoint. At Chloe, McGrath used a Bordeaux hue around the models' lips. But instead o fusing a diffused, just-bitten look, McGrath's lips had sharp lines and were seriously opaque.
McGrath brought red lips back at Paco Rabanne, too. But this time, she opted for a bright red lip. The lines stayed consistently sharp and not diffused. To mimic this look, try applying a lip liner, followed by the lipstick straight from the tube. The result will be a near-perfect lip without muss.