The Shocking Reason Why Derms Prefer Mineral Sunscreen
Vive Sana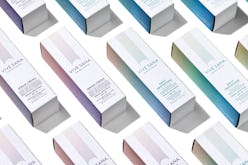 So, here's some somewhat-alarming news about SPF: That of the chemical variety actually absorbs into your bloodstream, according to recent data from the Food and Drug Administration (FDA). Here's some more comforting news: The best mineral sunscreens of summer 2019 make that a non-issue.
To back up a bit, there are two types of sunscreen: chemical sunscreen and mineral (sometimes called physical) sunscreen. "Chemical SPFs absorb the UV rays, and physical SPFs reflect the UV rays," Dr. Loretta Ciraldo, the founder of Dr. Loretta Skincare (and one of the first dermatologists to study the sun's effects on the skin in the 1970s) tells The Zoe Report. Both are effective at protecting skin from sun damage, and both have their pros and cons.
As of last month, the biggest item on the "con" list for chemical sunscreens — including avobenzone, oxybenzone, ensulizole, and octinoxate — is that when used as directed, they penetrate the skin and actually end up inside the circulatory system. Once there, studies show the chemicals appear in "concentrations above the FDA's toxicology threshold," as reported by Wired, and remain at toxic levels for a full three days after application. While that sounds super-scary, the FDA has yet to determine, what, if any, health risks this poses. "We need more data to understand this issue fully," Dr. Joshua Zeichner of Zeichner Dermatology in New York City says in a statement to TZR. That data is currently being collected, per the FDA, but results won't be available until November — at which point, summer will be long gone.
So, what should you do in the meantime? Dermatologists say that if you truly love your chemical sunscreen and can't bear to part with it, it's probably fine to keep using it… After all, there aren't any studies that *technically* show its presence in the bloodstream is a bad thing yet. (There is this, though: Oxybenzone is said to damage coral reefs and, as of 2021, is illegal to use in Key West and Hawaii, says Dr. Loretta.)
For those who would rather be safe than sorry until that FDA data comes through, "mineral SPF that contains zinc oxide alone or in combination with titanium dioxide is a great option," Dr. Zeichner says. Zinc oxide and titanium dioxide are the only two mineral sunscreens on the market, and they're also the only sunscreen actives considered safe and effective by the FDA. "Mineral sunscreens don't irritate or produce allergies, and can actually calm reactive skin," Dr. Loretta says, adding that the cons — they need to be reapplied more often, they can leave a white cast on the skin — are minimal.
What's even better, brands are taking extra steps to ensure their mineral options sidestep some of these annoying side effects — like Beautycounter Countersun Tinted Mineral Sunscreen Mist SPF 30 (which is sprayable for easy re-application, and tinted to blend in with any and all skin tones) and Vive Sana Daily Protezione SPF 30 (a blend of zinc oxide and natural oils that sinks in like skincare and is water-resistant, too).
Ahead, the 13 best mineral sunscreens to keep you safe and protected all summer long.
Shop Mineral Sunscreens